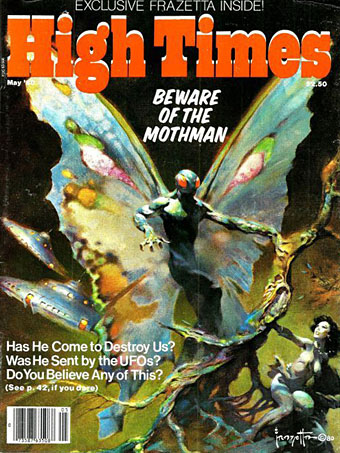 High Times, May 1980. Cover art by Frank Frazetta.
• Desperately Seeking Mothman: "The Scythian Lamb, after all, was equal parts Venus flytrap and baby lamb, a mysterious woolly gourd," says Tara Isabella Burton, on the trail of cryptids old and new.
• "In my youth of course I indulged in such stunts as bringing forth a Boramez, or a so-called vegetable lamb." It's that lamb again, in a translation of pages from The Voynich Manuscript.
• "2022: Be willing to be dazzled," says S. Elizabeth. Also, follow her blog because she's always turning up strange and wonderful things.
• "Why do we count down to the New Year?" Alexis McCrossen explores the history of countdowns, from Fritz Lang to the present day.
• "Snow coats reality in a fresh layer of strangeness," says Charlie Fox.
• Spending the War Without You: Laurie Anderson's Norton Lectures.
• New music: Our Hands Against The Dusk by Rachika Nayar.
• Mix of the week: Fact Mix 840 by Time Is Away.
• Galerie Dennis Cooper presents…Piet Zwart.
• Does It Matter Irene? (1979) by The Mothmen | Tardis (Sweep Is Dead, Long Live Sweep) (1981) by The Mothmen | Mothman (1981) by The Mothmen