Presenting the latest Coulthart calendar. Last year's Lovecraft-themed collection was well-received (and is on sale again this year) so I thought I'd try a similar accumulation of horror imagery. Much of the artwork this time is from my intensive painting period circa 1996–1998, and includes one piece—the red painting below—that hasn't been made public before. Further traces of Lovecraft may be found in the tentacles of the Lord Horror canvas—HPL by way of Frank Frazetta—and the two panels of the Red Night Rites diptych. The latter was a large picture of Reverbstorm-level grotesquery done as a wraparound cover for The Unspeakable Oath, a Lovecraftian gaming journal. While working on it I had William Burroughs in mind as much as Lovecraft, and Burroughs happened to die while work was still in progress so the picture is dedicated to him. Also Lovecraftian is In Spaces Between, one of the pages from my Kabbalistic collaboration with Alan Moore, The Great Old Ones. Howl from Beyond is a title that some people may recognise from Magic: The Gathering. I painted over 20 pictures for the card game but most of them were done in haste, and not to my satisfaction. Howl from Beyond is one of the few I felt worked as intended.
As before, this calendar is available at Zazzle, and comes with black pages and a minimal layout for the dates. Larger images of the artwork may be seen here. I said last year that I'd move some of the other calendar designs to Zazzle (CafePress having discontinued the vertical format I'd been using for years) but I still haven't done this. One day… And speaking of nightmares, earlier this year I was designing the interiors for another excellent collection of horror stories edited by Ellen Datlow which happens to bear this title. When I get some of that elusive spare time I'll add the book to the website.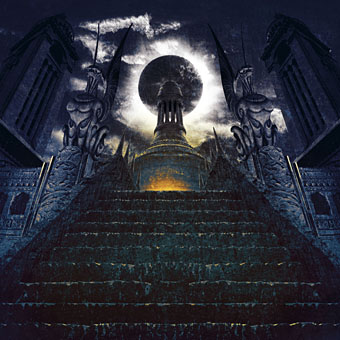 January: Steps of Descent (digital, 2008).
February: Untitled (acrylics on board, 1997).
March: Waltzes and Whispers (acrylics on board, 1998).