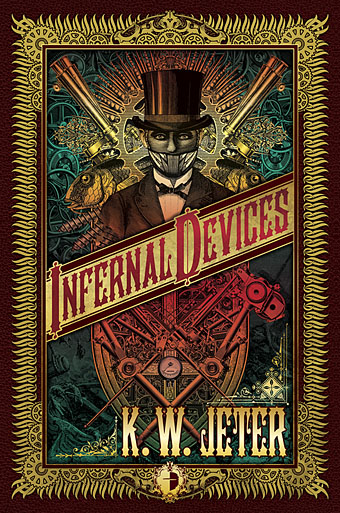 Yes, it's the "S" word again, and if there was any doubt that this has been the Year of Steampunk here at Coulthart Towers, look at these recent works. And this is by no means everything I've been doing in this area, there'll be further announcements later on.
The covers for KW Jeter's novels are a pair of reprintings from UK publisher Angry Robot whose books will shortly be available in the US and Canada. Jeter is now famous—infamous, perhaps—for having given the word "steampunk" to the world in the early 1980s. This was intended as a jest after he and a couple of other writers (including a favourite of mine, Tim Powers) had written a number of science fiction novels set in the 19th century; like many light-hearted neologisms, it gained a life of its own. Angry Robot are reissuing two of these early works as a result of the ongoing steampunk explosion.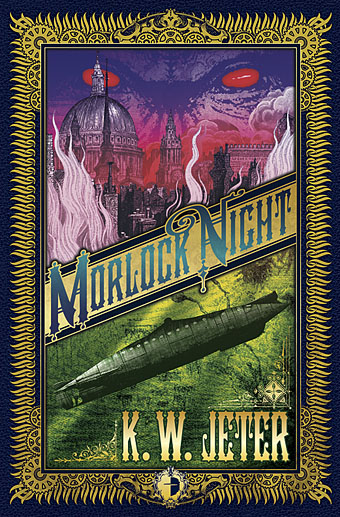 Morlock Night (1979) is a pulpy affair which sees the Morlocks from HG Wells' The Time Machine using the Time Traveller's vehicle to return to Victorian London and wreak no end of havoc. Infernal Devices (1987) is a rather more substantial confection involving a great deal of clockwork mechanisms (for once the clock parts are justified!), automata, fish people, and a device capable of destroying the earth. I've been producing a lot of engraving collage à la Ernst and Sätty recently but the technique seemed especially appropriate here as a means of illustrating works which themselves are collages of Victorian motifs.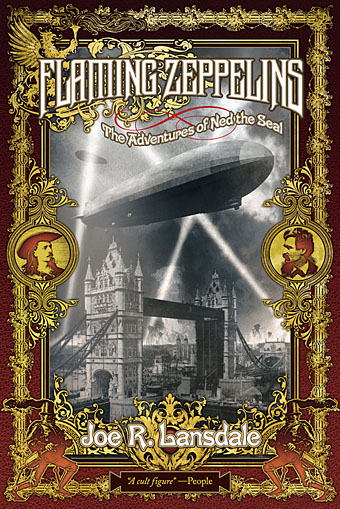 Meanwhile, over at Tachyon Publications, there's this cover for another Victorian adventure, two in fact, from master beserker Joe R Lansdale. Flaming Zeppelins combines a pair of comic adventures, Zeppelins West (2001) and Flaming London (2006), which feature a host of notable figures including Mark Twain, Annie Oakley, Buffalo Bill Cody…and a talking seal. Publication date is November 1st.
Then from Tachyon in mid-November there'll be Steampunk II: Steampunk Reloaded, a 430-page anthology edited by Ann & Jeff VanderMeer which includes fiction and non-fiction from William Gibson, Caitlín R Kiernan, Jeffrey Ford, Cherie Priest, and many others. Also a comic strip, copious illustrations and a very full-on interior design from yours truly of which I'll only show you the above page for the time being. Yes, that's a mechanical ostrich but if you want to know what it's doing there you'll have to read the book. More about this later. And more later about The Steampunk Bible to which I'm also a contributor, a glossy, full-colour guide to the entire sub-culture which will be published next year by Abrams. By the time that appears I'll probably be sick of the sight of clockwork parts, dirigibles, florid typefaces and Victorian decoration; I'll be needing a good dose of Helvetica and Josef Müller-Brockmann minimalism to calm down.
Previously on { feuilleton }
• Skeleton clocks
• Vickers Airship Catalogue
• The Air Ship
• Dirigibles
• More Steampunk and the Crawling Chaos
• La route d'Armilia by Schuiten & Peeters
• The art of François Schuiten
• Steampunk Redux
• Steampunk framed
• Steampunk Horror Shortcuts
• The Airship Destroyer
• Zeppelin vs. Pterodactyls