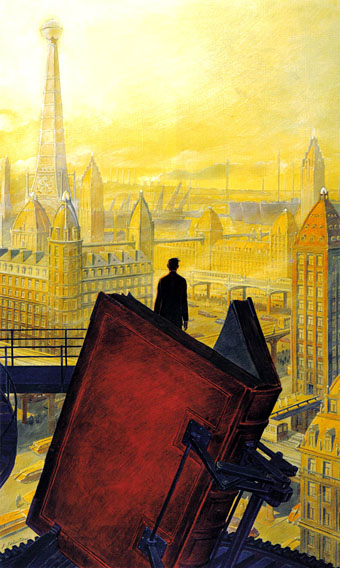 Paris au XXieme Siecle by Jules Verne (1994).
Following a comment I made last week in the post about the Temples of Future Religions by François Garas I've decided it's time to give some proper attention to one of my favourite comic artists, François Schuiten, a Belgian whose obsession with imaginary architecture resembles the earlier endeavours of Garas and others. Schuiten's parents were both architects which perhaps explains his predilection. In addition to a large body of comics work, he's produced designs for film—notably Taxandria by Raoul Servais—Belgian stamps, and a steampunk makeover for the Arts et Métiers station of the Paris Métro. In 1994 he created cover designs and a series of illustrations for the publication of Jules Verne's rediscovered manuscript, Paris au XXieme Siecle.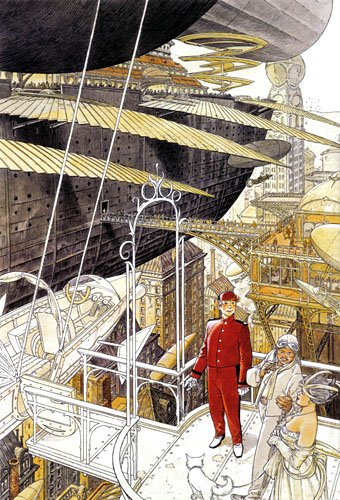 Cover for Spirou (2000).
I first encountered Schuiten's work in a 1980 issue of Heavy Metal magazine which was reprinting translated stories from the French Métal Hurlant along with original work. Schuiten's story, The Cutter of the Fog, was an erotic and futuristic tale of a small community and the obsession of the local "fog-cutter". François's brother Luc wrote the piece and it bears some similarity with JG Ballard's Vermilion Sands story, The Cloud Sculptors of Coral D. Unusually for Schuiten, the architecture was downplayed in this one although the small homes with their geodesic roofs are like extrapolations of architectural plans from one of the Whole Earth Catalogues.
The next time I saw his work was several years later when artist Bryan Talbot showed me some of the comic albums he'd brought back from a European convention. Among these there were several of the Cités Obscures books that Schuiten had been creating during the Eighties and Nineties with writer Benoît Peeters. These knocked me out with their apparently effortless creation of an imaginary world comprised of several city states, each with their own unique architectural style, and a wealth of retro-future technology, from dirigibles of all shapes and sizes to ornithopters and huge motorised unicycles. One of the many things I liked about European comic artists, and something which made me favour their work over their American counterparts, was the creation of richly detailed imaginary universes with inhabitants one could expect to meet in our world, not facile superheroes or vigilantes. Schuiten went further than his contemporaries by making the architecture meticulously believable and foregrounding its design to an extent that in some of the Cités Obscures stories architecture itself is the subject.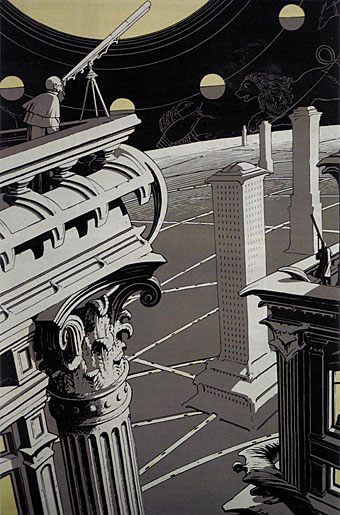 This revelation was both delightful and frustrating, the latter since the stories were all in French and it was a while before Dark Horse and others began publishing English translations. The lack of easily available English editions of Schuiten's work is one reason why he isn't better known—unlike Moebius, for example—and it's difficult to say why translation took so long when his imagination and draughtsmanship is unimpeachable. My theory is that for many years the American companies who might have translated and reprinted his work would have looked askance at the overt eroticism which is a continual feature of his stories. Nudity (both male and female) and sexual encounters are a commonplace in his work, as they are in numerous European albums. Sex in Schuiten's stories often works as a counterpoint to the cold obsessions of his architects and archivists, Fever in Urbicand being a good example where the madame of a brothel tries to lure the city's chief architect away from his designs. It was only in 2004 that DC Comics published The Hollow Grounds, a translated collection of some early strips which included The Cutter of the Fog.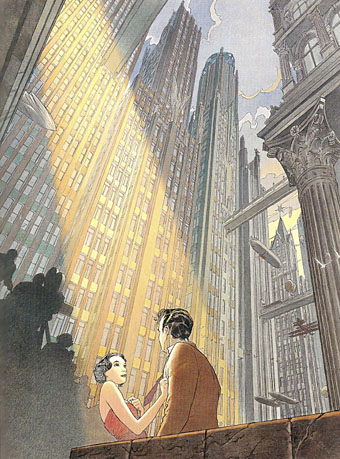 Cités Cinés.
It's difficult to fully convey the scope of these stories if you haven't seen the albums yourself. Schuiten is well-known in the comics world—at least to those who look away from America—but I've never seen any mention of his name among enthusiasts of fantasy fiction. Fantasy writers and critics frequently refer to films such as The City of Lost Children (1995) for its invention and steampunk atmosphere; you get all of that and several worlds more in Schuiten's work. It's my contention that Les Cités Obscures in particular is a significant work of contemporary fantasy deserving of wider attention, not merely a collection of albums and related books. In order to elaborate on this I'm devoting the coming week to some of the key Cités Obscures stories. For those whose curiosity has been piqued, there's a sprawling website, mostly in French and with some broken links, but you can at least see more of his wonderful drawings. Also of note is Obskür, in English and probably a better starting place for those new to Schuiten's world.
Elsewhere on { feuilleton }
• The fantastic art archive
Previously on { feuilleton }
• Temples for Future Religions by François Garas
• Taxandria, or Raoul Servais meets Paul Delvaux