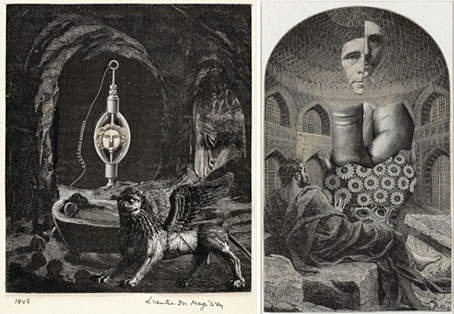 left: L'antre du magicien (1948); right: La Distribution des soleils (1945).
I'm rather late with this one, Metamorphosis Victorianus—Modern Collage, Victorian Engravings & Nostalgia is an exhibition running at the Ubu Gallery, New York until the end of the month. Lots of the names one would expect to see in a collection of engraving collagists although no Wilfried Sätty. The examples shown here are by Max Bucaille.
Max Ernst (1891–1976), with such work as his shocking and seminal illustrated collage-novel, La Femme 100 têtes (1929), influenced an entire wave of artists who looked towards the Surrealist and his use of 19th Century engravings as a point of departure within their own work in this medium. The first generation of artists were Ernst's contemporaries, who worked primarily in the 1930s with significant connection to the Surrealists: Joseph Cornell (1903–1972), Jind?ich Štyrský (1899–1942), Otto Hofmann (1907–1994), Franz Roh (1890–1965), Max Bucaille (1906–1992), and Gerome Kamrowski (1914–2004). Those a generation later, including Ray Johnson (1927–1995), Bruce Conner (1933–2008), and Jess (1923–2004), each separately rediscovered Ernst, specifically choosing to use this type of collage as a jumping off point towards other conceptual ends.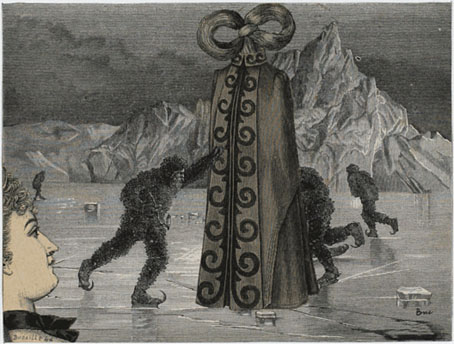 Capture (1946).
Previously on { feuilleton }
• Max (The Birdman) Ernst
• The Robing of The Birds
• Gandharva by Beaver & Krause
• The art of Stephen Aldrich