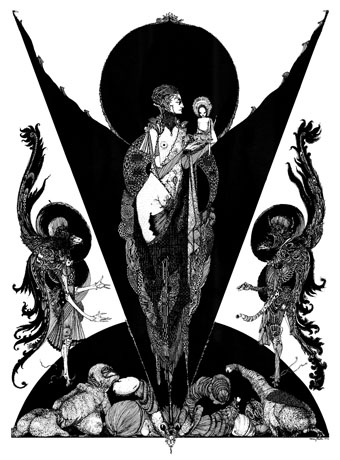 The Devil's Wife and her Eldest. A frontispiece for The Golden Hind, July, 1924, a magazine edited by Clifford Bax and Austin Osman Spare. I've seen this drawing referred to in print as "Goddem with Attendants" although this isn't how it was titled in the magazine.
It's taken some time but with a little careful searching it's now possible to see (almost) all of Harry Clarke's major works of illustration online. The Poe illustrations have been available in a variety of different scans for many years, their popularity being followed by some of the Faust drawings. But Clarke's other books are more elusive, so what you have here is links to the most complete collections of illustrations from each title, several of which also include the accompanying text.
This isn't all of Clarke's illustration work, of course. He produced many single pieces for magazines, as well as two rare promotional publications for the Irish whiskey distiller, Jameson. If he hadn't been so tied up with the stained-glass business he inherited there would have been much more. The biographical books mention titles he suggested to publishers as potential projects, a list which includes Dr Jekyll and Mr Hyde, Huysmans' À rebours, and—most tantalising of all—Bram Stoker's Dracula.
---
Fairy Tales of Hans Christian Andersen, 1916.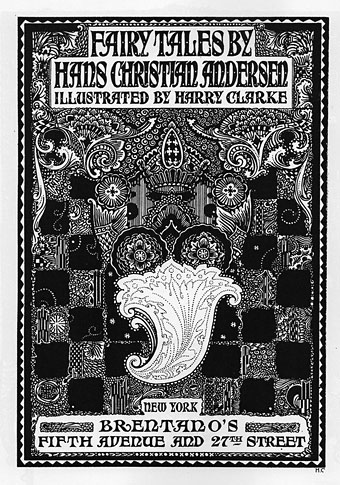 A post at Flickr. Despite Clarke's achievements as a stained-glass artist his colour illustrations aren't always as successful as those in black-and-white. That's certainly the case here.
---
Tales of Mystery and Imagination by Edgar Allan Poe, 1919.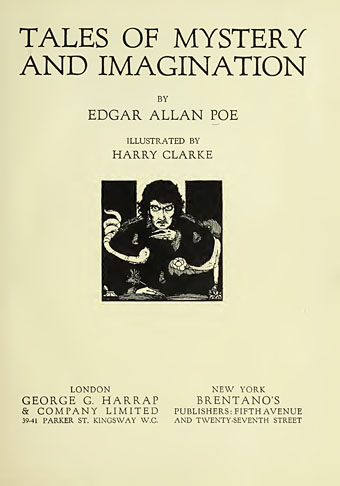 The 1923 edition is at the Internet Archive, a reprint which added several new colour pieces, none of which fare well in this scan. The book is also missing the frontispiece.
---
The Year's at the Spring, edited by Lettice D'Oyly Walters, 1920.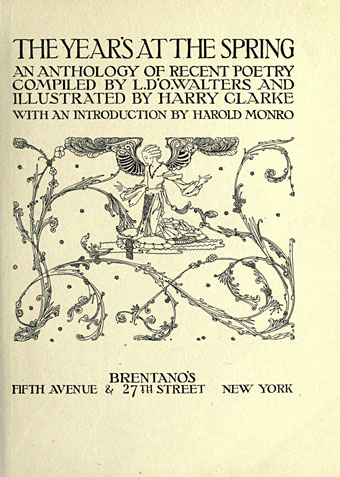 Another complete edition at the Internet Archive.
---
The Fairy Tales of Charles Perrault, 1922.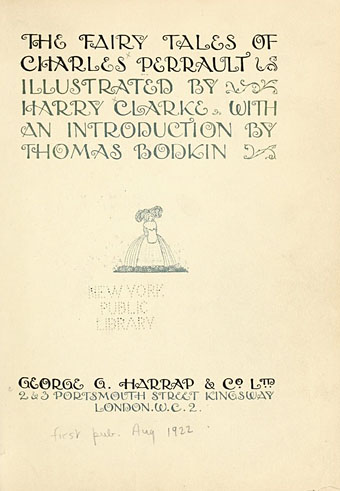 An almost-complete edition. This one again suffers from a missing frontispiece.
---
Faust by Johann Wolfgang von Goethe, 1925.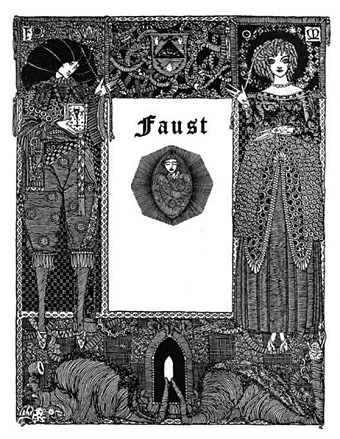 Not great reproductions since this edition is adapted from an e-book, but it does feature all of the black-and-white Faust illustrations in order, and with their accompanying quotes. No colour plates, however.
---
Selected Poems of Algernon Charles Swinburne, 1928.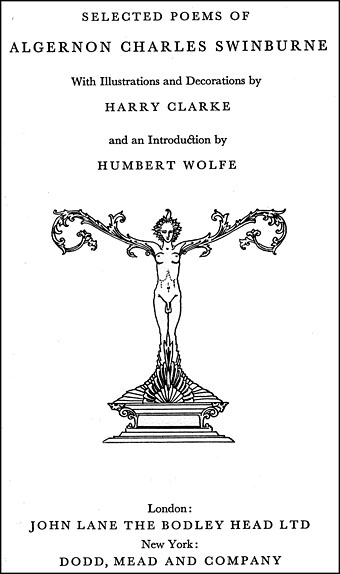 Clarke's most Decadent and erotic work, this one has yet to turn up in complete form but the defunct art blog, Golden Age Comic Book Stories, posted all of the art here.
Elsewhere on { feuilleton }
• The illustrators archive
Previously on { feuilleton }
• Harry Clarke record covers
• Thomas Bodkin on Harry Clarke
• Harry Clarke: His Graphic Art
• Harry Clarke and others in The Studio
• Harry Clarke's Fairy Tales of Charles Perrault
• Harry Clarke in colour
• The Tinderbox
• Harry Clarke and the Elixir of Life
• Cardwell Higgins versus Harry Clarke
• Modern book illustrators, 1914
• Illustrating Poe #3: Harry Clarke
• Strangest Genius: The Stained Glass of Harry Clarke
• Harry Clarke's stained glass
• Harry Clarke's The Year's at the Spring
• The art of Harry Clarke, 1889–1931