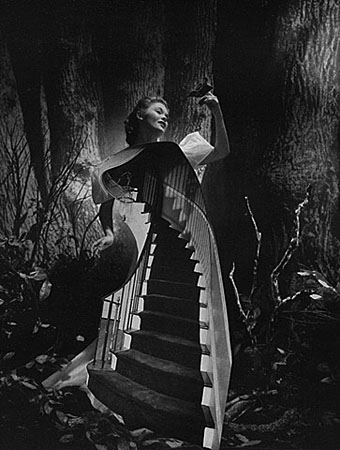 Step Up (2014) by Angelica Paez.
• Lots of attention this week for Kevin Martin whose latest album as The Bug, Angels And Devils, is out now on Ninja Tune. The previous Bug release, London Zoo (2008), was a fierce collection that stood apart from the Grime pack not only for its guest vocalists but also for being informed by Martin's broad range of influences: industrial and extreme electronics, heavyweight dub, metal and avant-garde jazz. Martin was interviewed by The Quietus and FACT who also asked other musicians to choose their favourite Martin recordings. Elsewhere, The Wire has Swarm, a track not included on the album.
Related: Martin's four superb compilation albums for Virgin Records have been deleted for years but are worth seeking out: Ambient 4: Isolationism, Macro Dub Infection Volume One & Volume Two, and Jazz Satellites Volume 1: Electrification (Virgin cancelled volume 2). From the NME, 1995: Kevin Martin's Ten Commandments For All Time.
• "…it never becomes quite clear why two grown men would want to write to each other in the guise of a horse and a cat." Henry Giardina reviews The Animals: Love Letters Between Christopher Isherwood and Don Bachardy, edited by Katherine Bucknell.
• Shufflepoems: A Deck of Poetry by Lydia Swartz. "100 cards, four suits, one stanza per card. Shuffle for a new adventure every time." The project needs a last-minute push to gain Kickstarter funding so if this sounds interesting go, go, go!
• The Haxan Cloak's favourite heavy metal albums. Metallica's Master Of Puppets still gets my vote. More from The Quietus: David Stubbs on the Werner Herzog soundtracks of Popol Vuh.
• At Strange Flowers: Waking the witch, a remembrance of occult artist Rosaleen Norton and other characters from Sydney's Kings Cross area, with news of a planned Norton documentary.
• A nine-note motif has for decades signalled "Asian" in popular music. Kat Chow looks at the history of a musical stereotype.
• Joseph Conrad's Heart of Darkness is the subject for entrants in the Folio Society's latest illustration competition.
• Irradiating the Object: Rhys Williams talks to writer M. John Harrison.
• Does the Sea Serpent Really Look Like an Art Nouveau Oar-fish?
• Schrödinger's cat caught on quantum film.
• 70s sci-fi art: a Tumblr.
• Demodex Invasion (1995) by Techno Animal | Piranha feat. Toastie Taylor (2001) by Techno Animal | Poison Dart feat. Warrior Queen (2008) by The Bug