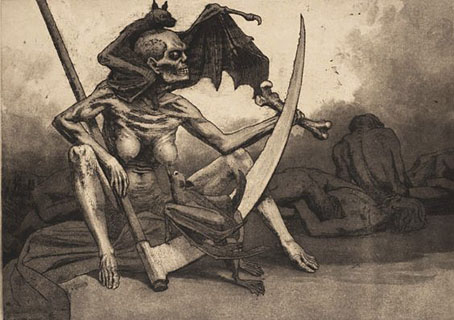 Le Répit (La Mort allaitant une chauve-souris) (1895) by Valère Bernard.
• Playhouse 90 presents Heart of Darkness by Joseph Conrad. An American TV production from 1957 starring Boris Karloff, Roddy McDowall, Eartha Kitt and others; introduced by Sterling Hayden. It's bizarre. Acidemic goes into the detail.
• Erik Davis talks to occult writer and drug geek Julian Vayne about Baphomet, the (sur)reality of spirits, evolution, ritualizing entheogens, and his new book Getting Higher: The Manual of Psychedelic Ceremony.
• "Unsurprisingly, 1. Outside was the record that the #BowieBookClub readers most readily associated with Hawksmoor." Anna Aslanyan revisits Peter Ackroyd's architectural mystery.
• The Flowers of Dorian Gray: part one of a series of posts examining one of Oscar Wilde's favourite symbols.
• At Haute Macabre, an interview with Michael Locascio & Heather Jean Skawold of Dellamorte & Co.
• One Minute Art History, an animated film by Cao Shu.
• Film posters at the Harry Ransom Center, UT-Austin.
• Mix of the week: FACT mix 639 by Black Milk.
• Susanna's favourite albums.
• Welcome to The Spoodoir.
• Flowers Of Evil (1983) by Cortex | Baphomet (1989) by Foetus Inc. | Heart Of Darkness (1989) by Syd Straw