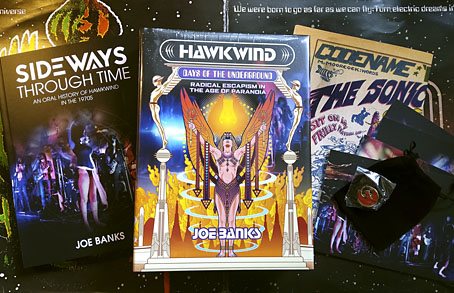 This time last year I was about to start working on the cover of Joe Banks' Hawkwind book, and here it is at last, after a considerable delay. The special edition has been worth the wait since it comes with an additional 200-page volume, Sideways Through Time, containing the interviews that Joe used for his research. There's also a set of cards with photos by Laurie Lewis from the session used for the cover of Space Ritual (we used some of the same photos on the book cover), and a print of the Moorcock/Cawthorn Hawklords comic strip from Frendz which further developed the group's self-mythologising begun by the In Search Of Space "Hawklog". And for people who pre-ordered the book last year then had to wait for months, there's a bonus enamel pin based on the hawk design I supplied for the front board. I like badges, and I designed a few for Hawkwind in the past, but this is a better design and a nicer object than any of those I did in the 1980s.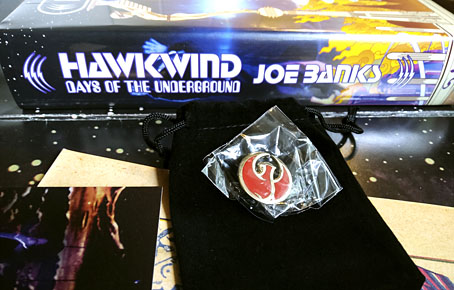 It's a big book.
Now that the book is out I can show off the full cover wrap. As mentioned earlier, I followed Barney Bubbles' preference for retro futurism by creating a cityscape based on the Deco-styled architecture that Frank R. Paul liked to use in his pulp illustrations. Some of the details refer obliquely to Hawkwind's cover art or songs of the 1970s, so the speeding car can be taken as a reference to both Kerb Crawler and Death Trap, as well as the speeding Art Deco vehicle on the cover of Roadhawks. The flying saucers are a nod to those by Barney Bubbles on the inner sleeve of the Doremi album (and on one of his black-and-white posters from the same period), while the Philippe Druillet rocket refers to Barney's own appropriation of a Druillet figure in his Hawk graphics. The combination of vehicles fleeing a burning city gives us the recurring theme in the group's lyrics about the need to escape from a self-destructing society/planet. Welcome to the future.
Hawkwind: Days of the Underground is available now from Strange Attractor.
Previously on { feuilleton }
• Hawkwind: Days of the Underground
• The Chronicle of the Cursed Sleeve
• Rock shirts
• The Cosmic Grill
• Void City
• Hawk things
• The Sonic Assassins
• New things for July
• Barney Bubbles: artist and designer