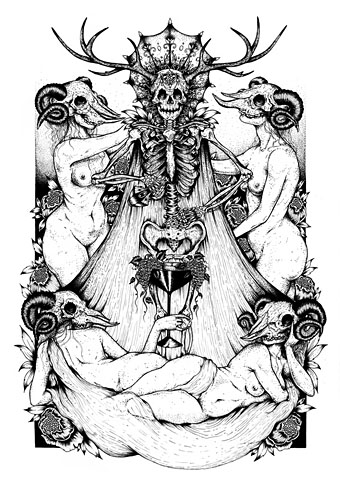 Nymphs of Bacchus by Lozzy Bones.
• "[Jonathan Meades] has a horror of explanation and an even greater one of manifestos, the artless moron's medium of choice." The writer turns artist with an "exhibition of Treyfs and Artknacks" at Londonewscastle.
• Robert Aickman: Author of Strange Tales is a 50-minute introduction to the writer and his works by RB Russell and Rosalie Parker.
• A second volume of  Cosmic Machine: A Voyage Through French Cosmic & Electronic Avantgarde will be landing in May.
• Amelia Mangan talks to Kattomic Energy about her horror fiction, and mentions these pages in passing. (Thanks!)
• The Interpretation of Screams: AS Hamrah on David Lynch: The Man from Another Place by Dennis Lim.
• "People thought we were on drugs – and we were!" Minimalist musician Tony Conrad interviewed.
• Two 1975 Buchla concerts by Suzanne Ciani are released for the first time by Finders Keepers.
• Inspiration from above and below: The strange world of… Sunn O))).
• At Dangerous Minds: HR Giger's ads for the Pioneer Corporation.
• At Dennis Cooper's: New Queer Cinema (1985–1998).
• Graphic Stamps, a history by Iain Follett and Blair Thomson.
• Ramsey Campbell's "Thirteen Novels on the Edge of Horror".
• The occult artwork of David Chaim Smith.
• Easter Woman (1980) by The Residents | Easter Parade (1984) by The Blue Nile | Easterfaust (2014) by The Cosmic Dead