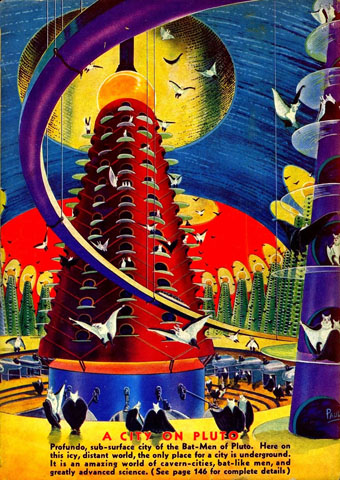 A City on Pluto (1940) by Frank R. Paul. Related: Paul's predictions about life on other planets.

• 23 Skidoo's Peel Session from September 16th, 1981. Only 18 minutes of music but I'm thrilled for its being unique material that's never been given an official release. There are many more Peel Sessions at the uploader's channel, not all of which were reissued on the Strange Fruit label. Download favourites in their as-broadcast form (some with John Peel's introductions) before they vanish or get blocked like the 1981 Cabaret Voltaire session. Related: Wikipedia's list of Peel Sessions.
• Mixes of the week comprise two collections by Jon Dale of strange and beguiling Italian music: The Prevarications Of The Sky Against The Earth and La Verifica Incerta; the Summer Window Mix ("telly detritus, new-not-new synth nonsense & off-colour pop oddities") by Moon Wiring Club; and Secret Thirteen Mix 158 by Haunter Records.
• "Hello, this is David Bowie. It's a bit grey out today but I've got some Perrier water, and I've got a bunch of records…" Two hours of the Thin White Duke playing favourite music on BBC Radio One, 20th May, 1979.
Some of Vidal's guests were writers, not exactly his favorite group. "Writers are the only people who are reviewed by people of their own kind," Vidal said in an interview. "And their own kind can often be reasonably generous—if you stay in your category. I don't. I do many different things rather better than most people do one thing. And envy is the central fact of American life."

Frank Pizzoli reviews Sympathy for the Devil: Four Decades of Friendship with Gore Vidal by Michael Mewshaw
• Yair Elazar Glotman's new album, Études, conjures "bone-rattling resonance, thick, alien-like atmospheres, and percussive fragments". Stream it in full here.
• London's Lost Department Store of the Swinging Sixties: Inge Oosterhoff on the splendours of Biba.
• It's that Ungeziefer again: Richard T. Kelly on 100 years of The Metamorphosis by Franz Kafka.
• The History of Creepy Dolls: Linda Rodriguez McRobbie explores the uncanny valley.
• At Dangerous Minds: Matt Groening tells the story of The Residents in 1979.
• The NYT collects NASA's photos from the New Horizons Pluto flyby.
• The Museum of Imaginary Musical Instruments
• Written on the Body: tattoos in cinema
• The Doll's House (1981) by Landscape | Voodoo Dolly (1981) by Siouxsie and the Banshees | Devils Doll Baby (1986) by Sonny Sharrock