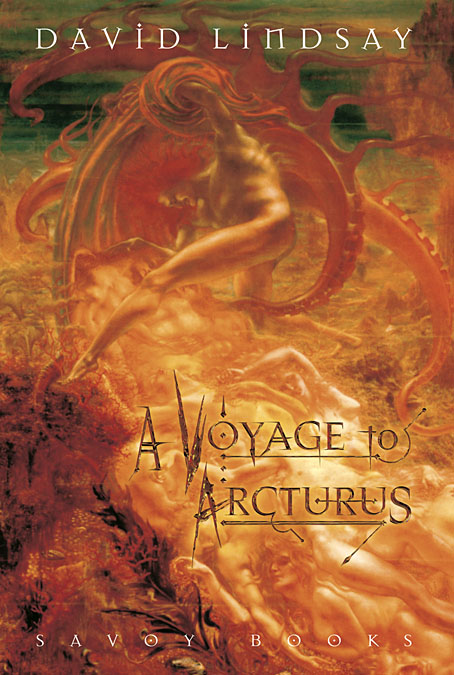 Today's post at Wormwoodiana reminds me that David Lindsay's unique novel of philosophical fantasy, A Voyage to Arcturus, was published a hundred years ago today. I designed a lavish reprint for Savoy Books in 2002, an edition which unfortunately used the re-edited text from earlier reprints instead of going to the original publication. This wasn't done for lack of a first edition, it was more out of ignorance—nobody bothered to look into the history of the text—as well as convenience; Savoy's earlier reprinting of Anthony Skene's Monsieur Zenith the Albino had involved many weeks of text preparation, scanning pages from a photocopy of Skene's very scarce novel, then running the copy through rudimentary OCR software and proofing the result. In Savoy's slight defence, the reprint of Arcturus did correct a couple of typos that everyone else had missed.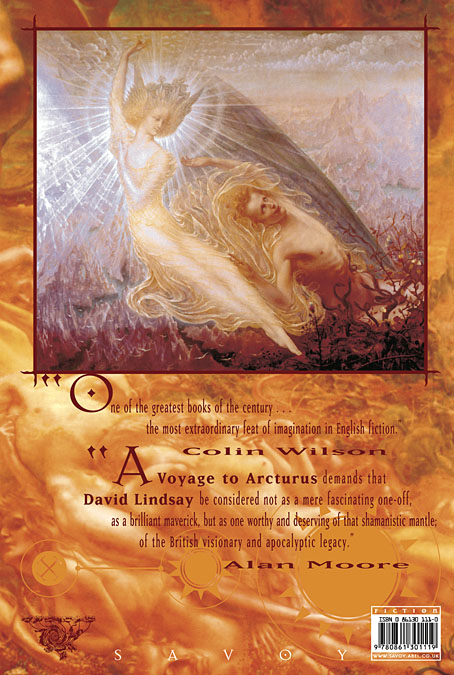 I still think the best feature of my design was the selection of Jean Delville's remarkable Symbolist painting, The Treasures of Satan (1895), a picture used with the permission of the Brussels Museum of Fine Art. (They supplied us with a print of the painting together with a photo of Delville's Angel of Splendour (1894) for the back cover.) With the exception of Bob Pepper's artwork for the 1968 Ballantine paperback, previous reprints of the novel seldom reflected the contents on their covers. I'm no longer happy with the type layout on the rest of the dust-jacket, however, although the front cover looks okay. The Savoy edition included an introduction by Alan Moore, an afterword by Colin Wilson, a collection of philosophical aphorisms by David Lindsay, plus a couple of photos of the author which I don't think had been published before. Despite its flaws, the book was well-received. The paper was heavier stock than is generally used for hardback fiction which made for a heavy and expensive volume but the edition still sold out.
Penguin are reprinting the novel next year in an edition which continues the tradition of unsuitable cover art. According to Lindsay site The Violet Apple the figure on the cover is from an illustration for a Dostoevsky novella, so what is it doing on Lindsay's book? Cover art aside, the novel is in a class of its own, and very highly recommended.
Previously on { feuilleton}
• The art of Bob Pepper
• Masonic fonts and the designer's dark materials