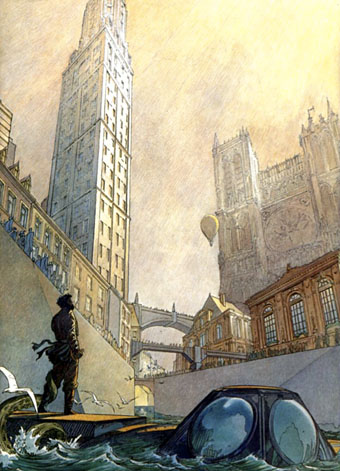 Mysterieux retour du Capitaine Nemo.
This week has been incredibly hectic work-wise but I've managed to keep these posts going, so here's the last one devoted to an appreciation of the Cités Obscures of François Schuiten and Benoît Peeters. A week of posts barely scratches the surface of their vast and involved creation of alternate worlds, fantasy design and architecture, and Borges-like metaphysical speculation. When I try to explain my disaffection with the popular end of American comics, it's works such as these which I offer as an alternative. The problem, of course, is that only a handful of the books have been translated into English, a detail which tells you all you need to know about English-speaking comics publishers and—since demand fuels the market—their readers.
This final set of pictures is a selection from Schuiten and Peeters' L'Echo des Cités (1993), a facsimile edition of the main newspaper which serves the cities of the Obscure World. Unfortunately, this remains untranslated but the bulk of the book is full-page illustrations, many of which are among Schuiten's best. A number of these were later reprinted as limited lithograph prints.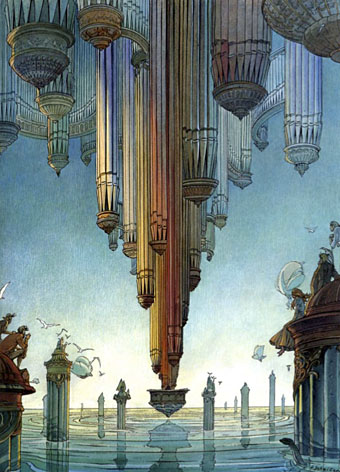 Les rêves engloutis d'Oscar Frobelius.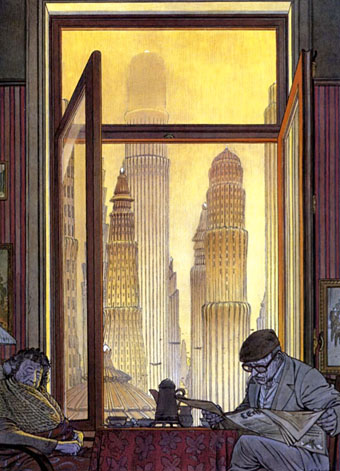 Les oublies de Blossfeldtstad.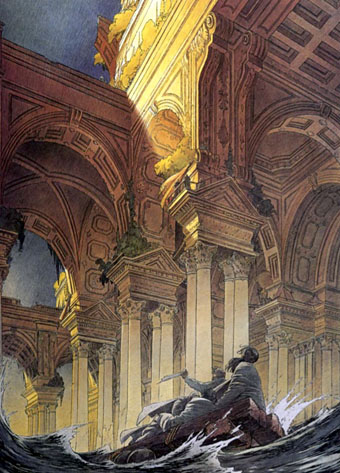 Les naufrages du Battista.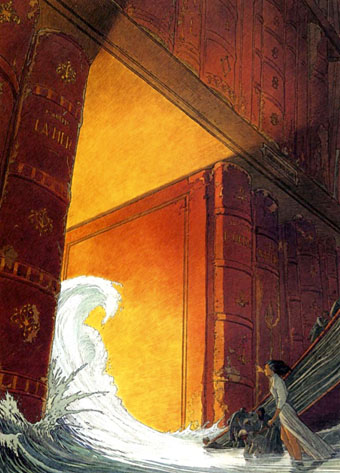 Sauvés!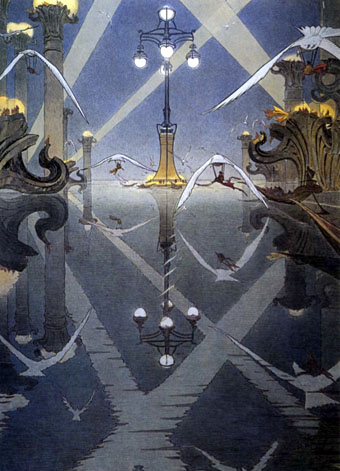 La resurrection du Lac Vert.
Elsewhere on { feuilleton }
• The fantastic art archive
Previously on { feuilleton }
• Further tales from the Obscure World
• Brüsel by Schuiten & Peeters
• La route d'Armilia by Schuiten & Peeters
• La Tour by Schuiten & Peeters
• La fièvre d'Urbicande by Schuiten & Peeters
• Les Murailles de Samaris by Schuiten & Peeters
• The art of François Schuiten
• Taxandria, or Raoul Servais meets Paul Delvaux