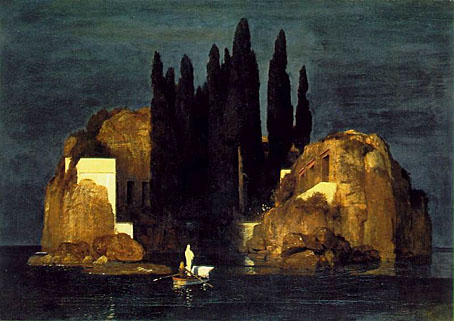 Another favourite painting for many years and Böcklin's most well-known work.
Arnold Böcklin (1827–1901) produced several different versions of the painting. All versions depict an oarsman and a standing white-clad figure in a small boat crossing an expanse of dark water towards a rocky island. In the boat is an object usually taken to be a coffin. The white-clad figure is often taken to be Charon, and the water analogous to the Acheron. Böcklin himself provided neither public explanation as to the meaning of the painting nor the title, which was conferred upon it by the art dealer Fritz Gurlitt in 1883. The first version of the painting, which is currently at the Metropolitan Museum in New York City, was created in 1880 on a request by Marie Berna, whose husband had recently died.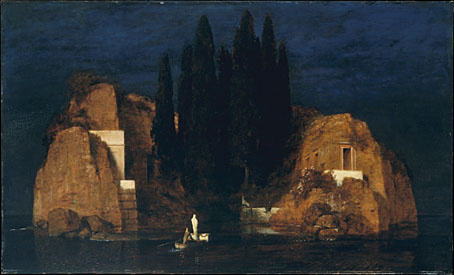 I—1880, oil on board, 29 x 48 in (74 x 122 cm) New York, The Metropolitan Museum of Art, Reisinger Fund, since 1926.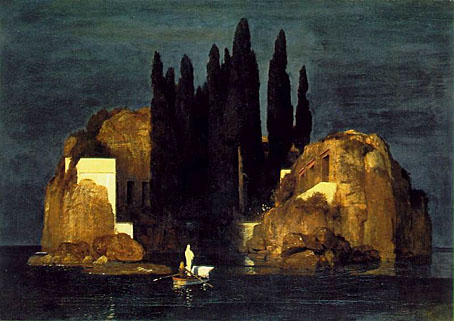 II—1880, oil on canvas, 111 x 115 cm Basel, Öffentliche Kunstsammlung, Kunstmuseum, since 1920.
III—1883, oil on board, 80 x 150 cm, Berlin, Nationalgalerie, Staatliche Museen Preussischer Kulturbesitz, since 1980.
IV—1884, oil on copper, 81 x 151 cm, Lugano, Sammlung Schloss Rohoncz; whereabouts unknown (destroyed during the Second World War?).
V—1886, 80 x 150 cm, Leipzig, Museum der bildenden Künste.
Böcklin's picture proved to be influential as well as popular. Sergei Rachmaninoff wrote a symphonic poem of the same name based upon the painting in 1909. The haunting image also crept into the cinematic world when film producers and production designers began looking at paintings for inspiration. Some of the views of Skull Island in the original version of King Kong bear a striking resemblance to the rock formations in the Leipzig version. A few years later, producer Val Lewton (also at RKO where King Kong was made) developed something of an obsession with the picture, first putting the Leipzig painting in the background of scenes in I Walked With a Zombie then finally making a film of the same name that's actually set on a Greek island resembling Böcklin's.
There are other later influences, among them the third act of Michael Powell and Emeric Pressburger's film The Tales of Hoffman, set on a similarly-styled Greek island, and several homages by another Swiss artist, HR Giger. Bocklin's name also lives on in the Art Nouveau typeface, Arnold Bocklin, designed by Otto Weisert in 1904.
Since this has been an obsession, I've paid homage myself, of course. Böcklin is quoted twice in my adaptation of The Call of Cthulhu, the second time when the sailors approach R'lyeh.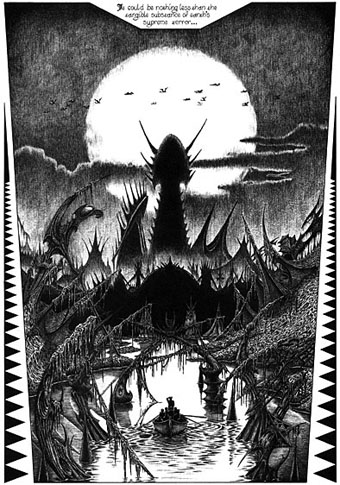 Update: added a copy of the destroyed version.