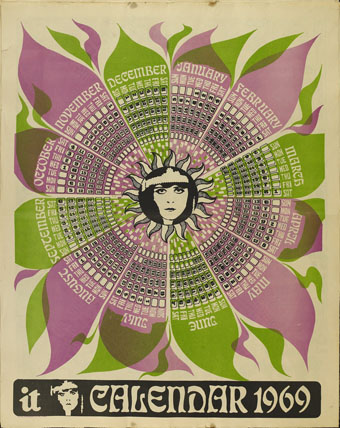 Continuing the psychedelic mega-mix based on Jon Savage's list of "100 mind-expanding masterpieces" (see this post). The third of the six mixes is the final visit to the UK, with songs from the years 1967 to 1969. As before, the selections from the Savage 100 are in bold, and I've added a few notes about my additions or amendments.
By late 1968 different musical trends were becoming apparent in pop music, all of which would develop into distinct movements of their own in the 1970s. Some of the strands are evident here, notably heavy rock, progressive rock, and the first stirrings of electronic music. Savage didn't include any electronic songs in his UK listing but I had to have something from White Noise, an obscure group at the time whose first album, An Electric Storm, has since proved very influential. That album is infused with the psychedelic spirit, especially on Your Hidden Dreams, one of the many songs of the period that conflates dreams with drug experiences. An earlier version of this mix did include Your Hidden Dreams but I've ended up going with Love Without Sound, the first piece the group recorded.
The most surprising entry in all six mixes is probably the song by Cilla Black, an artist whose name seldom (if ever) appears in discussions of psychedelia. This was a discovery via another list for Mojo magazine compiled by Rob Chapman, a collection of novelty hits, comedy songs (Dick Shawn's Love Power from The Producers), and various obscurities. Cilla's song was included for featuring yet more lyrics that may or may not be about drugs. The faux-Arabian arrangement is by George Martin. If I ever track down all of Chapman's songs I may upload them as well.
UK Psychedelia, Part Three by Feuilleton on Mixcloud
The Rolling Stones — 2000 Light Years From Home (The Stones at their most cosmic.)
The Nice — Flower King Of Flies (The Savage 100 has Diamond Hard Blue Apples Of The Moon, a B-side that's also very badly recorded, hence this substitute.)
Status Quo — Pictures Of Matchstick Men
Big Boy Pete — Cold Turkey
The Pretty Things — Talkin' About The Good Times (Another marvellous single from a group at the peak of their powers.)
Julie Driscoll with Brian Auger and The Trinity — This Wheel's On Fire (Julie Driscoll also did a great cover of Donovan's Season Of The Witch. This gets included for the modish phasing and for being the theme song for Absolutely Fabulous on which Driscoll also sings.)
Nirvana (UK) — Rainbow Chaser
The Rokes — When The Wind Arises (An English band recording for the Italian market.)
Boeing Duveen & The Beautiful Soup — Which Dreamed It? (Hank Wangford in an earlier guise. A Lewis Carroll poem set to music, this was the dreamy B-side of the group's Jabberwocky single.)
The Mirror — Faster Than Light
Fairport Convention — It's Alright Ma, It's Only Witchcraft
The Crazy World Of Arthur Brown — Fire
Pink Floyd — Jugband Blues
Cilla Black — Abyssinian Secret
The Jimi Hendrix Experience — 1983 (A Merman I Should Turn to Be)
White Noise — Love Without Sound
The Apple — The Other Side
Kaleidoscope (UK) — Faintly Blowing
Jason Crest — Black Mass (A Satanic obscurity that pre-empts Black Sabbath by several months.)
The Open Mind — Magic Potion (By late 1969 it was much too late to still be writing drug songs but that's what you have here. The heavy riff points to the future.)
Blind Faith — Can't Find My Way Home
Previously on { feuilleton }
• Listen to the Colour of Your Dreams: Part Two
• Listen to the Colour of Your Dreams: Part One
• What Is A Happening?
• My White Bicycle
• Ogdens' Nut Gone Flake
• Tomorrow Never Knows
• The Dukes declare it's 25 O'Clock!
• A splendid time is guaranteed for all