By the time Yellow Submarine appeared on TV in the early Seventies I was already a keen viewer of anything showing the groovier side of the late Sixties. What I recall of that decade is resolutely unspectacular—I was only 7 in 1969, after all—but Swinging London as seen in the lighter films of the period, or via trace elements in TV series such as The Avengers, always looked like a fun place to be. Yellow Submarine was a concentrated dose of all the gaudiest elements of the era and immediately became one of my favourite films, probably the favourite psychedelic film until I finally got to see Performance in 1983.
This comic strip adaptation of the film is a curious cash-in from 1968 which is nonetheless better, and longer, than I expected. The writer and artist go uncredited but whoever they were they manage to flesh out the admittedly sketchy storyline and still retain the atmosphere of the film. One significant change may be the result of the timidity of the time with John Lennon's lysergic muse, Lucy in the Sky with Diamonds being downgraded to Paul McCartney's rather more mundane Rita the Meter Maid.
The comic came with this poster and the whole package is now highly-sought by Beatles collectors with near mint copies going for $300. Naturally there are various copies circulating in the digital world and I shouldn't have to tell you how to find them.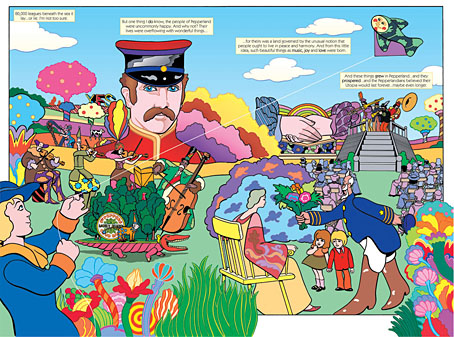 There were plans by Dark Horse in the 1990s to produce a more faithful adaptation of the film in comic form. Bill Morrison was the artist and this would have tied-in with the film's release on DVD in 1999. He managed 26 pages before Apple Records pulled the plug on the project which seems a shame going by the completed work. The Beatles' back catalogue is due to be reissued soon in CD editions which will replace the shoddy 1987 versions. Expect to hear more about Yellow Submarine before the year is out.
Previously on { feuilleton }
• The Sonic Assassins
• A splendid time is guaranteed for all
• Heinz Edelmann
• Please Mr. Postman
• All you need is…