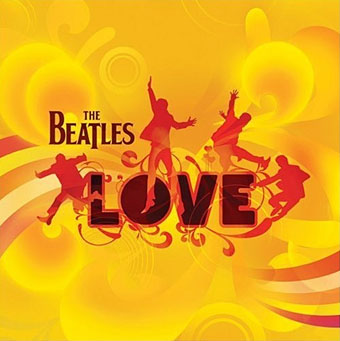 In which the lovable moptops get the official mashup treatment courtesy of George Martin's son, Giles. Very creditable it sounds to these ears although it strains a bit much in places to shoehorn tiny bits of the very familiar songs into other very familiar songs. The added sound effects are pretty superfluous, some of them are probably only there for the multi-channel DVD mix.
The Beatles are where my music listening began, thanks to a mother who was a fan for a while (until they started taking drugs and weirding out), and I can never quite forget this when I listen to them. As with all mashups, it's the juxtaposition that fascinates, the moment when you think, "wow, song A fits really well with song B!". So Strawberry Fields Forever ends with Piggies and the end of Hello Goodbye running together, while Within You, Without You really benefits from the addition of the drums from Tomorrow Never Knows. And the sound is fantastic, serving to highlight once more EMI's disgraceful refusal to properly remaster these albums. I like the cover, a successful combination of the youthful exuberance of the Hard Day's Night band with the later psychedelic period.
I keep wondering if this is the future of these cultural monuments. Just as Shakespeare's plays are given new life by fresh interpretation, further reappraisal would help revitalise some of those stale back catalogues. The problem, of course, is that the whole question of copyright has been getting worse in recent years. Much as I'd like to see EMI's vaults thrown open to sound collagists like John Oswald or Holger Czukay, it isn't going to happen, is it?
1 "Because"
2 "Get Back"
3 "Glass Onion"
4 "Eleanor Rigby" / "Julia" (transition)
5 "I Am the Walrus"
6 "I Want to Hold Your Hand"
7 "Drive My Car" / "The Word" / "What You're Doing"
8 "Gnik Nus"
9 "Something" / "Blue Jay Way" (transition)
10 "Being for the Benefit of Mr. Kite!" / "I Want You (She's So Heavy)" / "Helter Skelter"
11 "Help!"
12 "Blackbird" / "Yesterday"
13 "Strawberry Fields Forever"
14 "Within You Without You" / "Tomorrow Never Knows"
15 "Lucy in the Sky with Diamonds"
16 "Octopus's Garden"
17 "Lady Madonna"
18 "Here Comes the Sun" / "The Inner Light" (transition)
19 "Come Together" / "Dear Prudence" / "Cry Baby Cry" (transition)
20 "Revolution"
21 "Back in the USSR"
22 "While My Guitar Gently Weeps"
23 "A Day in the Life"
24 "Hey Jude"
25 "Sgt. Pepper's Lonely Hearts Club Band (Reprise)"
26 "All You Need Is Love"