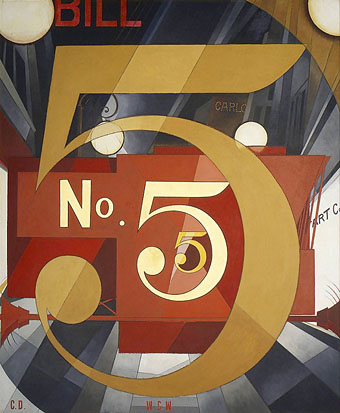 I Saw the Figure 5 in Gold (1928) by Charles Demuth.
• "Reading the new edition in 2021, I'm struck by his dismissal of CD-ROMs, of VR, of interactivity; how he anticipates contemporary debates about algorithmic bias…his prescient exhaustion." Sukhdev Sandhu reviews Brian Eno's diary for 1995, A Year with Swollen Appendices. Meanwhile, Eno himself says "Artists like me are being censored in Germany—because we support Palestinian rights."
• "Kink is often pathologized in popular culture: it's shamed, used as a punchline, and, on the whole, relegated to the margins of desire." Greg Mania interviews R.O. Kwon and Garth Greenwell about Kink a collection of new stories about unorthodox desires.
• "This album is the king of hauntology. From where I'm sitting, I'm going back to the past, listening to an album imagining the future, imagining the past." Tom Herdman on the fabulous Time (1981), a science-fiction concept album by the Electric Light Orchestra.
Cavafy, the ultimate Alexandrian, gave us an Alexandria that was already not quite there in his own lifetime. It kept threatening to disappear before his eyes. The apartment where he had made love as a young man had become a business office when he went to revisit it years later; and the days of 1896, of 1901, 1903, 1908, 1909, once filled with so much eros and forbidden love, were already gone and had become distant, elegiac moments that he remembered in poetry alone. The barbarians, like time itself, were at the gates, and everything would be swept in their wake. The barbarians always win, and time is hardly less ruthless. The barbarians may come now or in a century or two, or in a thousand years, as indeed they had come more than once centuries earlier, but come they will, and many more times after that as well, while here was Cavafy, landlocked in this city that is both the transitional home he wishes to flee and the permanent demon that can't be driven out. He and the city are one and the same, and soon neither will exist. Cavafy's Alexandria appears in antiquity, in late antiquity, and in modern times. Then it disappears. Cavafy's city is permanently locked away in a past that refuses to go away.

André Aciman on the poetry of Cavafy and the Alexandrias of memory
• DJ Food on the package design for The Superceded Sounds of…The New Obsolescents, which uses a similar foil card to the "Héliophore" stock used by Philips in their cult series of electroacoustic compositions, Prospective 21e Siècle.
• Onlyou by Can, is "A relaxed studio session, recorded on a mono taperecorder in 1976 at the Innerspace". Released in 1982 on a 34-minute cassette sealed inside a can (geddit?), and limited to 100 copies.
• Olivia Rutigliano ranks 45 films containing prison escapes. I'd put the Bresson at number one but otherwise, yes.
• "…some kind of future unrealised time…" Mix of the week is a mix for The Wire by Muqata'a.
• RIP Christopher Plummer. Never mind the musical, watch him in The Silent Partner (1978).
• At Ubuweb: short films by Erkki Kurenniemi soundtracked by his own electronic music.
• New music: Neurogenesis by Robert Rich.
• Kinky Boots (1964) by Patrick McNee & Honor Blackman | David Watts (1967) by The Kinks | The Dominatrix Sleeps Tonight (Dominant Mix) (1984) by Dominatrix