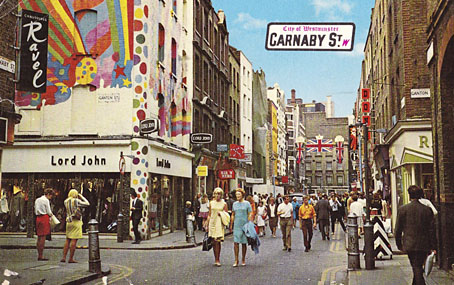 Carnaby Street circa 1967.
Continuing the psychedelic mega-mix based on Jon Savage's list of "100 mind-expanding masterpieces" (see this post). The second of the six mixes is where British psychedelia is in full swing after shedding its R&B/Mod/Freakbeat origins: what was black-and-white a year before is now blazing colour. There's much I enjoy about US psychedelic music but I've always favoured the British variety. The sound of US psychedelia is less adulterated than its British equivalent, and even the later examples are often little more than country or folks songs with suitably dreamy lyrics. The gravitational mass of The Beatles so overwhelmed the UK scene that the experimentation at Abbey Road was endlessly copied and refined by the younger groups, some of whom—like Pink Floyd and The Pretty Things—were working in the same studio with the same engineers.
It's the adulteration of the sound that I enjoy, the audacity of recording an orchestra at great expense then feeding the result through a phaser, as Nirvana (UK) did on Rainbow Chaser. (See next week's mix). The Who's Armenia In The Sky is an excellent example of studio pyrotechnics. Pete Townshend had complained that some of The Beatles' arrangements were slight so this song can be regarded as his riposte. At the end of the mix the Fab Four fire back with I Am The Walrus.
Everything here dates from 1967, and as before the listing is roughly chronological bold type indicating the selections from the Savage 100. Given the choice I'd take See Emily Play over Mathilda Mother—the former being a particular favourite—but Savage's choice works very well as a melodic come-down after the cosmic racket of the Jimi Hendrix Experience. David McWilliams' one-hit-wonder is an odd choice and not especially psychedelic but once again I defer to Savage's selection. The Kinks are also notable by their absence although they never adopted any of the studio trickery that might have spoiled their exceptional songwriting.
UK Psychedelia, Part Two by Feuilleton on Mixcloud
The Fairytale — Guess I Was Dreaming (An obscure single that can be taken as being about dreams, drugs or both.)
The Rolling Stones — We Love You
The Small Faces — Itchycoo Park
The Jimi Hendrix Experience — Radio One
The Jimi Hendrix Experience — The Stars That Play With Laughing Sam's Dice
Pink Floyd — Mathilda Mother
Traffic — Hole In My Shoe (Their other great psychedelic single.)
The Who — Armenia In The Sky (The Savage 100 has Relax but this is much more tripped out with surreal lyrics flying through squalls of backwards guitar.)
The Herd — From The Underworld
Svensk — Dream Magazine
Dantalian's Chariot — Madman Running Through The Fields
Kaleidoscope (UK) — Flight From Ashiya
The 23rd Turnoff — Michaelangelo
The Hollies — King Midas In Reverse
David McWilliams — The Days Of Pearly Spencer
The Idle Race — Imposters Of Life's Magazine
Eric Burdon & The Animals — San Franciscan Nights
The Troggs — Love Is All Around
Family — Scene Through The Eye Of A Lens (Savage has Me My Friend from their first album. This substitute is a mini-epic that was their first single.)
The Accent — Red Sky At Night (Their only release, and a song that turns up on many compilations.)
Simon Dupree & The Big Sound — Kites
The Pretty Things — Defecting Grey
Tintern Abbey — Vacuum Cleaner
The Beatles — I Am The Walrus
Previously on { feuilleton }
• Listen to the Colour of Your Dreams: Part One
• What Is A Happening?
• My White Bicycle
• Ogdens' Nut Gone Flake
• Tomorrow Never Knows
• The Dukes declare it's 25 O'Clock!
• A splendid time is guaranteed for all