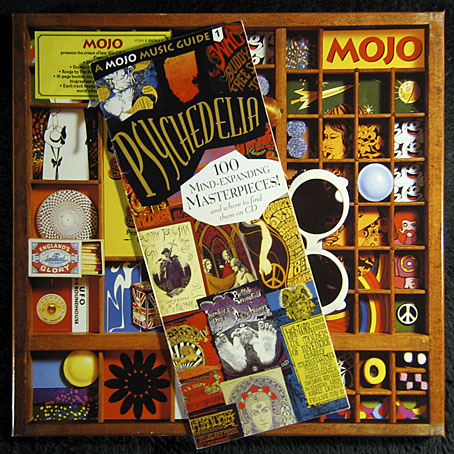 Blame these things: the Jon Savage booklet, and Mojo Presents Acid Drops, Spacedust & Flying Saucers (design by Phillip Savill).
One of the commissions for the New Year is psychedelia-related so to get in the mood I've been listening to the six CD compilations of psychedelic songs I made some years ago. I must have spent about five years gathering everything on these discs which comprise 132 selections in all, three for UK music and three for the USA, covering the years 1966–1969. The impetus was an annotated booklet listing "100 mind-expanding masterpieces" that Jon Savage had compiled for Mojo magazine in 1994; a revised list was published in 1997 along with some debatable contemporary additions. Things came to a head (so to speak) in 2001 when Savage and fellow Mojo journalists put together a four-CD collection of prime UK psychedelia for EMI, Acid Drops, Spacedust & Flying Saucers, which included many of the songs from Savage's list. That collection and the Rhino Records Nuggets box began the mania to accumulate everything on Savage's list. Once I'd started burning my own compilations the Savage 100 quickly expanded when I realised that I ought to include more favourites of my own.
To start the year, then, I'm uploading all six compilations to Mixcloud beginning with the UK selection. Despite all the effort and the number of songs this still isn't a definitive collection. As Savage observes in his notes, the late 1960s was a time of massive over-production by record companies with hundreds of singles released, especially in the UK. Many one-off releases by obscure bands are as good as those that topped the charts which is why psychedelic compilations are so numerous, and why omissions are unavoidable.
With that proviso here's the first part of the UK collection covering the years 1966 to 1967. The tracklist below indicates in bold the songs from the Savage 100 with notes about my additions. The listing is by order of release although this isn't strictly accurate throughout. I'll be uploading the rest of the compilations over the next few weeks.
UK Psychedelia, Part One by Feuilleton on Mixcloud
Dialogue — Alice In Wonderland (From Jonathan Miller's BBC film, 1966.)
The Beatles — Tomorrow Never Knows
The Rolling Stones — Paint It Black
The Creation — Making Time
Craig — I Must Be Mad (A ferocious single by a band that only released one other 45 before splitting. Carl Palmer is on drums.)
Donovan — Season Of The Witch
The Yardbirds — Happenings Ten Years Time Ago
The Misunderstood — I Can Take You To The Sun (An American band who moved to London in 1966. This was their second and final single, and one of John Peel's all-time favourites.)
Cream — I Feel Free
The Beatles — Strawberry Fields Forever
Pink Floyd — Interstellar Overdrive (Savage has the version from Tonite Let's All Make Love In London which runs for almost 17 minutes. The version here is the shorter one from Piper At The Gates Of Dawn.)
The Smoke — My Friend Jack
The Poets — In Your Tower
The Move — I Can Hear The Grass Grow
The Troggs — Night Of The Long Grass
Traffic — Paper Sun
The Jimi Hendrix Experience — Are You Experienced?
Tomorrow — My White Bicycle (Savage has a later single, Revolution, but I much prefer this earlier 45.)
John's Children — Midsummer Night's Scene
Dialogue — Yellow Submarine
The Beatles — It's All Too Much
The Attack — Colour Of My Mind
Small Faces — Green Circles
Previously on { feuilleton }
• What Is A Happening?
• My White Bicycle
• Ogdens' Nut Gone Flake
• Tomorrow Never Knows
• The Dukes declare it's 25 O'Clock!
• Yellow Submarine comic books
• A splendid time is guaranteed for all