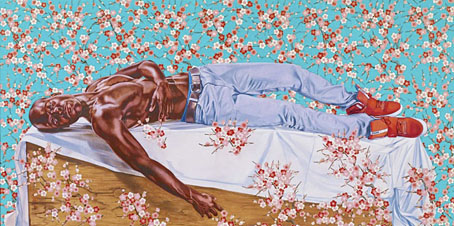 The Death of Chatterton (2014) by Kehinde Wiley.
• Mixes of the week (and the week before that): The Conjurer's Hexmas: Second Rite by SeraphicManta; Secret Thirteen Mix 140 by Deaf Center; Best of 2014: A Highly Opinionated Mix by Robin The Fog.
• Never mind Music for Airports, how about Music for Neurosurgery? The Tegos Tapes Edits are extracts from "12 hours of unheard Vangelis music soundtracking films of various surgical operations".
• "It was one of the first magazines that, with science-fiction and comics together, proposed comics for adults." Aug Stone on 40 years of publisher Les Humanoïdes Associés and Métal Hurlant.
• Zinesters Do It on the Photocopier: Stephanie Schroeder on the Queer Zine Archive Project. Related: Holy Titclamps by Larry-bob Roberts.
• A Year In The Country reached the end of its 365 posts. The archive is well worth a browse.
• "These people love to collect radioactive glass. Are they nuts?" asks Ben Marks.
• Think before you share: 86 viral images from 2014 that were totally fake.
• The Anti-Tolkien: Peter Bebergal on Michael Moorcock.
• Extracts from Alan Bennett's diary for 2014.
• Alpha (1976) by Vangelis | Reve (1979) by Vangelis | L'Enfant (1979) by Vangelis