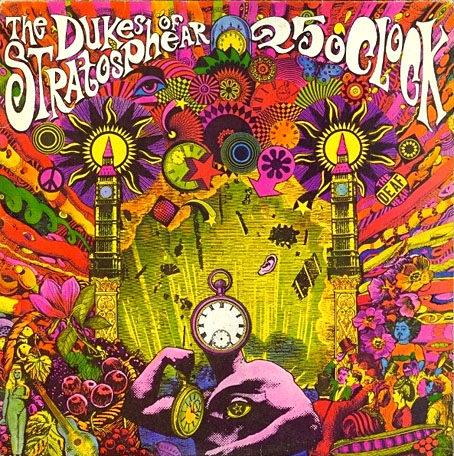 25 O'Clock (1985). Andy Partridge's great cover design.
The DUKES say it's time…it's time to visit the planet smile…it's time the love bomb was dropped…it's time to eat music…it's time to kiss the sun…it's time to drown yourself in SOUNDGASM and it's time to dance through the mirror. The DUKES declare it's 25 O'CLOCK.
It was twenty-five years today…April 1st, 1985…that Virgin Records released what was supposed to be a reissue of a lost psychedelic album from the late 1960s, 25 O'Clock by The Dukes of Stratosphear. The catalogue number was WOW 1 and the vinyl label was printed with the old black-and-white Virgin logo by Roger Dean even though Virgin Records wasn't founded until 1972. No one was supposed to know that the album was really a pastiche project by XTC but I don't recall anyone actually being fooled by this, all the reviews acknowledged XTC as the originators, and band members Andy Partridge and Colin Moulding were happy to give interviews enthusing about their musical obsessions. As well as being incredibly successful artistically the album was a surprising commercial success which led the bemused record label to ask for a sequel. Psonic Psunspot followed two years later and the Dukes' vibe infected XTC's own work for a while, with their 1988 album, Oranges & Lemons, pitched somewhere between the pastiches and the group's more customary sound .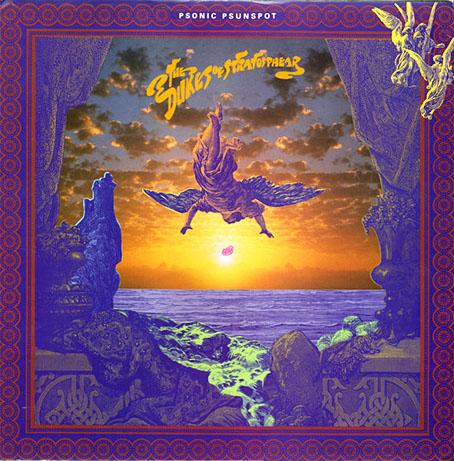 Psonic Psunspot (1987). Design by Dave Dragon and Ken Ansell.
Given the way in which Eighties' music is remembered today it might seem that the appearance of 25 O'Clock was quite unprecedented but a current of interest in the psychedelic era had been there for a while. Siouxsie & the Banshees were a notable example, eager to avoid being trapped in a Goth cul-de-sac with their covers of the Beatles' Dear Prudence and Julie Driscoll's This Wheel's On Fire while Banshees' side project The Glove (Steve Severin & Robert Smith) had another take on psychedelia. In Los Angeles the bands who formed what was eventually labelled the Paisley Underground had been performing and exchanging members since 1981 although I've only ever considered the Rain Parade to be fully psychedelic in sound and attitude. The Bam Caruso and See For Miles reissue labels were active throughout the decade, and when Bam Caruso's magazine offshoot, Strange Things Are Happening, appeared in 1988 the first issue included an interview with the Dukes. Many of the other quasi-psych bands of the time are documented on Rhino's Children of Nuggets, an excellent compilation whose first track is by…the Dukes of Stratosphear.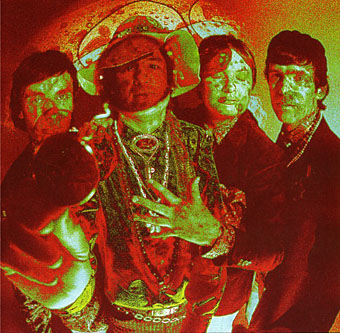 "The Dukes were the band we all wanted to be in when we were at school. Purple, giggling, fuzztone, liquid and arriving. If you want to know where those cheap charlatans 'The Beatles', 'Pink Floyd', 'The Byrds', 'The Hollies' and 'The Beach Boys' stole their ideas from, well just listen to this and weep." Andy Partridge.
XTC beat everyone at the psych game, however, being more obsessed with the music and also prodigiously adept at imitating the songwriting styles of the period. They were superior songwriters generally, of course, but you only have to compare their pitch-perfect Beach Boys' pastiche, Pale and Precious, with Primal Scream's ham-fisted attempt at a similar style, Inner Flight, to see how distant they were from the competition. Of the two Dukes albums, 25 O'Clock is still my favourite. With only six songs it's shorter than the follow-up and works harder to pack as many clichés of psychedelic songwriting and recording into the smallest space. Psonic Psunspot tends to parcel its influences song by song whereas 25 O'Clock happily mashes up musical motifs and wild effects to create a sound that's even more delirious and deranged than its period models. It's also more oriented towards UK psychedelia which I often prefer over the American variety. Psonic Psunspot did add one new ingredient in the form of a young girl's fragmented narration which nods to both Alice in Wonderland and the nonsense narration by Stanley Unwin from the second half of Ogden's Nut Gone Flake by The Small Faces. Both albums had great covers. Andy Partridge collaged a pile of cuttings from Dover Publications' clip-art books for the first release in an attempt to emulate Martin Sharp's cover for Cream's Disraeli Gears. Psonic Psunspot riffs on cover art by Japanese collagist Tadanori Yokoo with some angels plundered from Gustave Doré and a title design à la Hapshash and the Coloured Coat.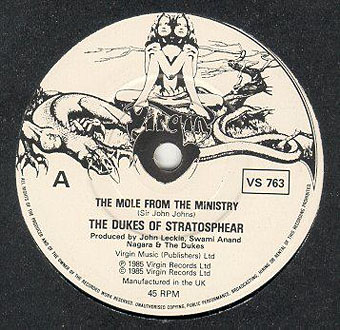 The Mole from the Ministry single label.
Both albums were reissued last year by Andy Partridge's Ape House label in splendid CD editions with additional tracks plus the two promo films made for the singles. In the booklet notes Partridge and co. detail their determination to be as authentic as possible with their choice of guitars and use of an antique Mellotron. Continual praise is given to producer John Leckie (aka Swami Anand Nagara) whose attention to detail did so much to conjure an authentic atmosphere. Leckie began his career engineering Pink Floyd sessions in Abbey Road so he knew many of the old studio tricks such as running two tapes out of synch to create a phased effect. It was his work on 25 O'Clock which led the Stone Roses to seek him out as a producer for their debut album a few years later.
If these works sound tempting then I'd recommend buying direct from Ape House. If you're really, really tempted they have the The Complete & Utter Dukes Box Set which contains both albums plus other goodies including a t-shirt and jigsaw puzzle. Meanwhile, XTC site Chalkhills has sub-sections devoted to 25 O'Clock and Psonic Psunspot with lyrics, pictures and release ephemera.
The Dukes at YouTube: Mole From The Ministry | You're A Good Man Albert Brown
Elsewhere on { feuilleton }
• The album covers archive
Previously on { feuilleton }
• Roger Dean: artist and designer
• Max (The Birdman) Ernst
• The New Love Poetry
• Strange Things Are Happening, 1988–1990