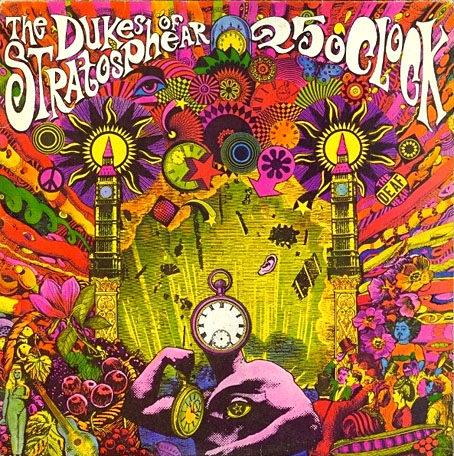 25 O'Clock (1985). Andy Partridge's great cover design.
The DUKES say it's time…it's time to visit the planet smile…it's time the love bomb was dropped…it's time to eat music…it's time to kiss the sun…it's time to drown yourself in SOUNDGASM and it's time to dance through the mirror. The DUKES declare it's 25 O'CLOCK.
It was twenty-five years today…April 1st, 1985…that Virgin Records released what was supposed to be a reissue of a lost psychedelic album from the late 1960s, 25 O'Clock by The Dukes of Stratosphear. The catalogue number was WOW 1 and the vinyl label was printed with the old black-and-white Virgin logo by Roger Dean even though Virgin Records wasn't founded until 1972. No one was supposed to know that the album was really a pastiche project by XTC but I don't recall anyone actually being fooled by this, all the reviews acknowledged XTC as the originators, and band members Andy Partridge and Colin Moulding were happy to give interviews enthusing about their musical obsessions. As well as being incredibly successful artistically the album was a surprising commercial success which led the bemused record label to ask for a sequel. Psonic Psunspot followed two years later and the Dukes' vibe infected XTC's own work for a while, with their 1988 album, Oranges & Lemons, pitched somewhere between the pastiches and the group's more customary sound .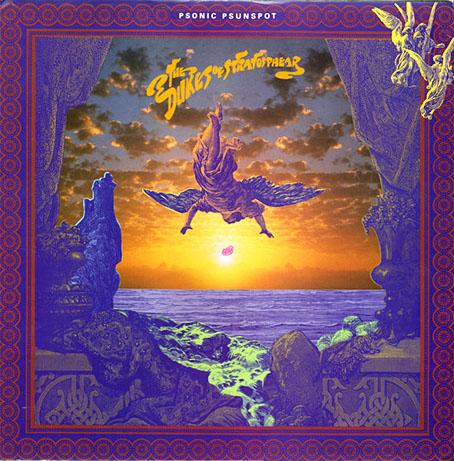 Psonic Psunspot (1987). Design by Dave Dragon and Ken Ansell.