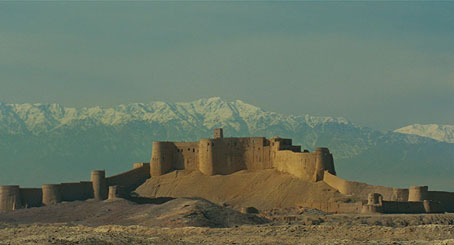 The Desert of the Tartars (1976), an Italian film directed by Valerio Zurlini, is another of those cinematic works whose description in books would leave me tantalised and frustrated. A brief entry would tell you that the film existed but when would you ever get to see it? Last week I finally got to see this one thanks to a recent restoration via a French blu-ray disc which, for once, had English subtitles.
Zurlini's film is an adaptation of The Tartar Steppe, the most popular of Dino Buzzati's novels, and for a long time the only book of his that you could easily find in English. I often feel a little hypocritical when it comes to Buzzati. I've been telling people for years to look out for his strange stories—the phrase was used as a subtitle for a Calder & Boyars edition of Catastrophe—even though the translated collections were all out of print. The Tartar Steppe has been reprinted more than most yet I still haven't read it. I'll be correcting this now I've seen the film. Buzzati's story concerns a young soldier, Lieutenant Drogo, being posted to a distant border fortress where a small company of soldiers awaits a barbarian invasion which they believe will come from the surrounding desert. All the soldiers are eager to experience the thrill of battle yet the invasion has so far refused to arrive. Matters are complicated when officers who were determined to stay are sent back home while Drogo, who says he was posted there by mistake, finds the place impossible to leave. A Cavafy poem, Waiting for the Barbarians, is credited as an inspiration for this, but the spectre of Franz Kafka haunts any story with a deferred or inaccessible resolution, and in that respect Buzzati's novel, which was published in 1940, may be one of the first to learn from the example set by The Castle.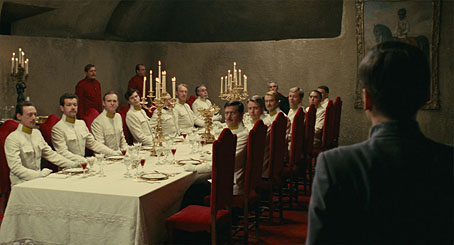 Jean-Louis Bertucelli and André G. Brunelin wrote the screenplay which was apparently criticised for not doing justice to Buzzati's story. I can't comment, obviously, but it wouldn't be the first time the subtleties of a novel have been lost in the translation to the screen. Faithful or not, I was happy to be watching the thing at all, and besides which, familiarity with the source material can sometimes blind you to the other qualities of an adaptation. The film has a minimal score by Ennio Morricone, and an impressive cast that includes Philippe Noiret, Fernando Rey, Jean-Louis Trintignant and a dubbed Max von Sydow.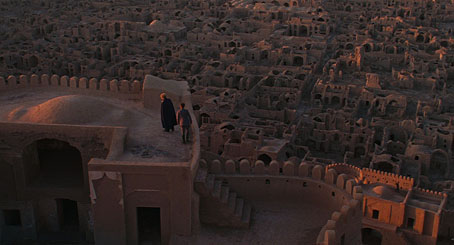 It also looks fantastic, with photography by Luciano Tovoli and spectacular locations in the Iranian desert. The ancient Bam citadel at Arg-e Bam in southern Iran provided the location for the Bastiani fortress, a massive and exceptionally photogenic ruin. A note at the end of the restored print tells us that the citadel and surrounding area was devastated in 2003 by an earthquake that claimed 26,000 lives and levelled the place. The citadel has since been rebuilt, so the film also serves now as a record of its former appearance.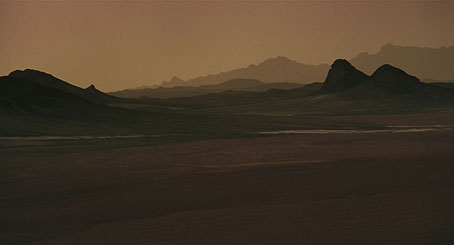 As for Buzzati, it's still a mystery why his books haven't been made more widely available in English but matters improved recently with the republication of Catastrophe and Other Stories. He was also an accomplished artist whose illustrations are deserving of more attention. Some of these were featured at 50 Watts a few years ago, together with samples from his book-length graphic adaptation of the Orpheus myth, Poem Strip, from 1969.