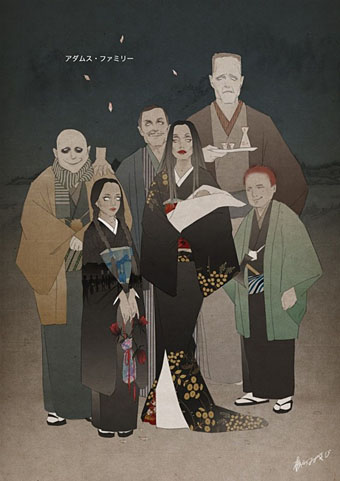 The Addams Family In Kimonos by Matsuyama Miyabi. Via S. Elizabeth.
• "They're not the men you'll walk down the street and lock eyes with, or that you'll spot at a bar casually. They're a fantasy." Michael Valinsky reviewing Tom House: Tom Of Finland In Los Angeles edited by Michael Reynolds. Related (and almost a polar opposite): Nick Campbell on The Life to Come and Other Stories by EM Forster.
• Randall Dunn, musician (Master Musicians of Bukkake), producer (Sunn O))), Earth, etc), engineer, discusses making and recording music.
• John Waters brings back Multiple Maniacs: "Of course I went a little too far." he says. Waters also talked about the film at Gawker.
Q: Most cherished book on your shelves? Why?

A: Depends on the day. Today it's Blood Meridian by Cormac McCarthy. Blood Meridian is an indictment of Manifest Destiny, the Westward Expansion, of Hollywood and its portrayal of the west; it's confrontational and bellicose. The sheer brutality of it affected me like I'd swallowed poison or taken a shot to the liver that I didn't remember. Blood Meridian is a reminder that literature isn't always tame. It can bite you.

Laird Barron talking to Smash Dragons about favourite writers and his own fiction
• In East Tower Dreaming Howlround, aka Robin the Fog, processes the sounds of a former BBC office building.
• At The Headless Hashasheen: Magic Mirrors and Specters: Paschal Beverly Randolph, Hashish, & Scrying.
• At Dangerous Minds: The astonishingly beautiful three-colour photography of Bernard Eilers.
• Samm Deighan on Gothic Film in the '40s: Doomed Romance and Murderous Melodrama.
• On a scale from 1–100, Milton Glaser rates every single Olympic logo design in history.
• The overwhelming A/V experience of Paul Jebanasam and Tarik Barri.
• Patrick Feaster describes how to "play back" a picture of a sound wave.
• Mix of the week: Secret Thirteen Mix 192 by Shadows.
• COLLAGE—The London Picture Archive
• Madrigal Meridian (1978) by Tangerine Dream | Meridian Moorland (1979) by Peter Baumann | Meridian (2009) by Espers