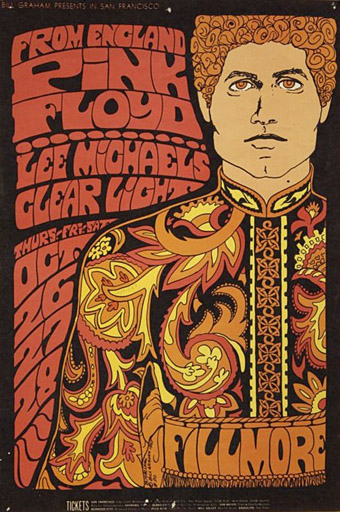 Pink Floyd, Lee Michaels, Clear Light (1967) by Bonnie MacLean.
• Electronic musician Mort Garson has been subject to a revival of interest recently, with reissues of his works as Ataraxia (The Unexplained), and Lucifer (Black Mass). The latest reissue is Mother Earth's Plantasia (1976), an album released under Garson's own name, and one of several works of plant mysticism from the 1970s (see Stevie Wonder's Journey Through The Secret Life Of Plants, and Green by Steve Hillage).
• "It is striking how much of this work sounds like a missing link from the art world to the popular groups of the time, such as the Detroit techno pioneers Cybotron and the Japanese electro legends Yellow Magic Orchestra." Geeta Dayal on the reconfigured Speak & Spell machinery of Paul DeMarinis.
The cost of free love and the designers who bore it: Madeleine Morley meets the women of psychedelic design.
For the transhumanist anarchist Wilson, the neurological relativism revealed by his own learning and personal deprogramming experiments called for a form of 'guerrilla ontology' that lampooned, rejected and transmitted much needed interference into the 'reality tunnels' that attempt to control much of contemporary society and individual behaviour. In the Schrödinger's Cat Trilogy, characters are repeatedly placed in positions of cognitive dissonance, where they are forced to reevaluate their own belief systems due to experiences that they are unable to accommodate.

Sean Kitching on the 40th anniversary of Robert Anton Wilson's Schrödinger's Cat Trilogy
• They said books were dead, they were wrong: Adrian Shaughnessy on a decade of Unit Editions.
• Mixes of the week: Xianedelica by Jesús Bacalão, and Kosmische Mix By Tarotplane.
• Swinging 60s surrealist Penny Slinger: "Collectors thought I came with the art".
• Cabaret Voltaire: Chance Versus Causality (Teaser).
• Luc Sante on postcards of American violence.
• At Dennis Cooper's: Peter Whitehead Day.
• Computerwelt (1981) by Kraftwerk | Speak And Spell (1984) by Christina Kubisch | Time Space Transmat (1985) by Model 500