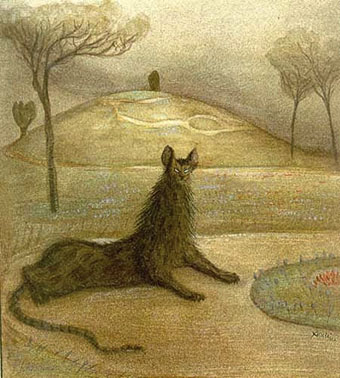 Dream Animal (1903) by Alfred Kubin.
• The week in Finland: A set of Finnish emojis includes icons for notable cultural exports such as Tom of Finland and Moominmamma. Tove Jansson's creations have received fresh attention this month with the debut release of the electronic soundtrack music for The Moomins, an animated TV series made in Poland in 1977, and first broadcast in the UK in 1983. Andrew Male talked to Graeme Miller and Steve Shill about creating Moomins music with rudimentary instrumentation.
• Russian company Mosfilm has made a new copy of Andrei Tarkovsky's science-fiction masterpiece, Stalker (1979), available on their YouTube channel. Tarkovsky's films have been blighted by inexplicable flaws in their home releases, as Stalker was when reissued on a Region B Blu-ray last year. The new Mosfilm upload looks better than my old DVD so for the moment this is the one I'll be watching.
• Before straight and gay: the discreet, disorienting passions of the Victorian era. Deborah Cohen reviews A Very Queer Family Indeed by Simon Goldhill. Related: Kevin Killian reviews Murder in the Closet: Essays in Queer Clues in Crime Fiction Before Stonewall, edited by Curtis Evans.
• "How many graphic designers owe their introduction to typography to a teenage encounter with the typefaces and lettering found on album covers?" asks Adrian Shaughnessy.
• Mixes of the week: Secret Thirteen Mix 210 by Ascion, FACT Mix 587 by Seekersinternational, and The Séance, 4th February 2017.
• Pankaj Mishra on Václav Havel's lessons on how to create a "parallel polis". Related: The Power of the Powerless by Václav Havel.
• Hans Corneel de Roos on Dracula's lost Icelandic sister text: How a supposed translation proved to be much more.
• "I live outside the world in a universe I myself have created, like a madman or a holy visionary." — Michel de Ghelderode.
• The Metropolitan Museum of Art makes 375,000 images of public art freely available under Creative Commons Zero.
• Richard H. Kirk on Thatcherite pop and why Cabaret Voltaire were like The Velvet Underground.
• Emily Gosling on what David Lynch's use of typography reveals (or doesn't).
• White Noise Sounds of Frozen Arctic Ocean with Polar Icebreaker Idling.
• John Gray on what cats can teach us about how to live.
• At Dennis Cooper's: Day of the Mellotron (Restored).
• The Warburg Institute Iconographic Database.
• Sastanàqqàm by Tinariwen.
• Tanz Der Vampire (1969) by The Vampires of Dartmoore | Dracula (1983) by Dilemma | Vampires At Large (2012) by John Zorn