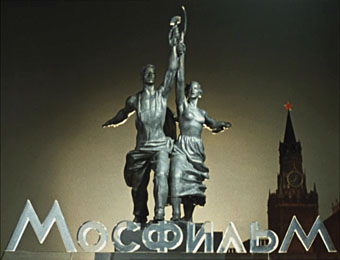 Anyone who's seen a Soviet film from 1947 onwards will recognise the logo of the Mosfilm studio which featured a model of Vera Mukhina's Worker and Kolkhoz Woman monument. This 24-metre tall steel-plate statue proved surplus to requirements after the collapse of the old order, like so many monuments of that period. English Russia has a series of moody photographs of the structure lying in pieces whilst being dismantled.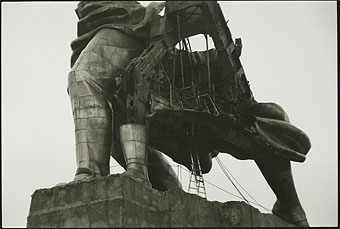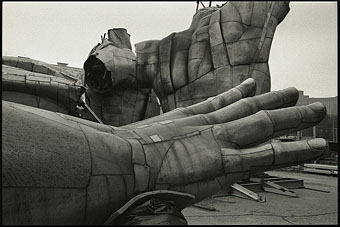 Poor Vera, who died in 1953, must have thought her work would last a very long time; these pictures are a poignant reminder of the ephemeral nature, not only of art, but of whole ideologies. They're also reminiscent of the deliberately degraded sculptures made by Igor Mitoraj (below) which trade for their effect on exactly this disjunction between delusions of permanence and the ravages of history.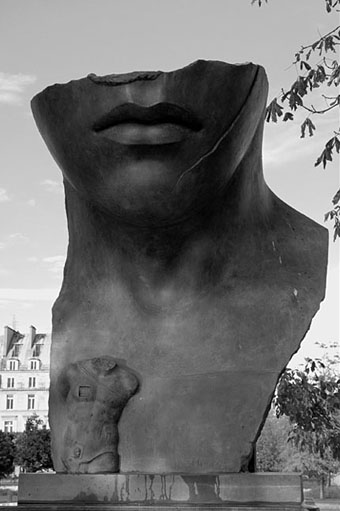 And on these Flickr pages you can see one of Mitoraj's influences from a ravaged past, the fragments of the Colossal Statue of Constantine in the Palazzo dei Conservatori, Rome.
Previously on { feuilleton }
• The Stalker meme
• The art of Igor Mitoraj
• Enormous structures II: Tatlin's Tower
• Solaris