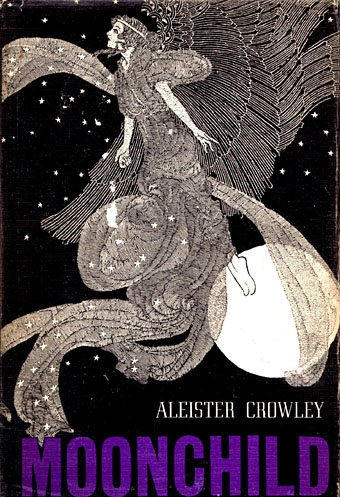 Cover for the 1970 US edition of Moonchild by Aleister Crowley. No artist credited (unless you know better…). Update: The artist is Dugald Stewart Walker, and the drawing is from a 1914 edition of Hans Christian Andersen's fairy tales. Thanks to Mr TjZ!

• "…a very mid-Seventies cauldron of Cold War technology, ESP, sociology, black magic and white magic, experimental science and standing stones, secret radar and satanic rituals, whirring aerials and wild moors: a seething potion of Wyndham and Wheatley." Mark Valentine on The Twelve Maidens, a novel by Stewart Farrar.
• "The line in the song 'feed your head' is both about reading and psychedelics. I was talking about feeding your head by paying attention: read some books, pay attention." Grace Slick explains why those three little words have been attached to these pages since 2006.
• Freddie deBoer reposted his "Planet of Cops" polemic, a piece I linked to when it first appeared in 2017, and which used to come to mind all the time before I absented myself from the poisonous sump of negativity that we call social media.
• RIP Charlie Watts. The Rolling Stones' last moment of psychedelic strangeness is Child Of The Moon, a promo film by Michael Lindsay-Hogg featuring an uncredited Eileen Atkins and Sylvia Coleridge.
• Old music: A live performance by John Coltrane and ensemble of A Love Supreme from Seattle in 1965 that's somehow managed to remain unreleased until now.
• A short film about Suzanne Cianni which sees her creating electronic sounds and music for the Xenon pinball machine in the early 1980s.
• "I'll be in another world": A rediscovered interview with Jorge Luis Borges.
• Steven Heller explains why Magnat is his font of the month.
• Clive Hicks-Jenkins on the allure of toy theatre.
• New music: Vexed by The Bug ft. Moor Mother.
• At Dennis Cooper's: Nikola Tesla Festschrift.
• Moon Child (1964) by The Ventures | Moonchild (1969) by King Crimson | Moonchild (1992) by Shakespears Sister