Miller Blues Band/Mother Earth/Bukka White by Alton Kelley & Stanley Mouse (1967).
I already had this piece roughed out before discovering that psychedelic artist Alton Kelley died last month, something that doesn't seem to have been reported very widely. I posted the picture above last October then in January this year wrote something about San Francisco's Panama-Pacific International Exposition of 1915. But it's taken me until now to realise that these two things are connected.
The San Francsico poster artists of the Sixties, of which Mouse & Kelley were leading members, borrowed frequently from earlier sources, especially Art Nouveau stylists such as Alphonse Mucha and the Symbolist painters. A recent Thames & Hudson book, Off the Wall: Psychedelic Rock Posters from San Francisco traces some of the more obvious influences but this is one example which seems to have eluded them.
Descending Night and Rising Day by Adolph Alexander Weinman (1914).
The statue that Mouse & Kelley used was titled Descending Night and was, with Rising Day (aka The Rising Sun), one of a pair of symbolic works created by sculptor Adolph Alexander Weinman (1870–1952) for the Panama-Pacific Exposition. The photos above are from one of the books I linked to earlier, Sculpture of the Exposition Palaces and Courts by Juliet Helena Lumbard James. The identities of artists' models are rarely preserved but in the case of Descending Night we know that one Audrey Munson was the model. And I know that thanks to a well-timed overview of Ms Munson's career by Silent-Porn-Star.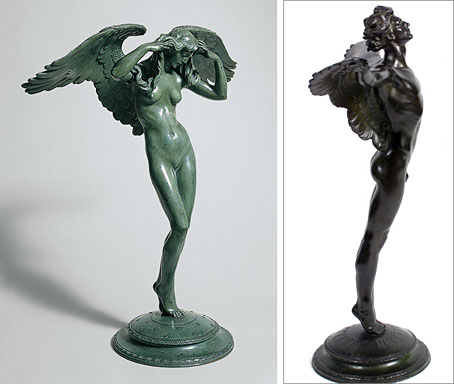 Weinman later worked his statue designs into these rather fine figurines which became his best-selling small bronzes. These pictures make visible the stars at the feet of Night and the sun at the feet of Day.
left: Adolph Alexander Weinman in his studio with a study for Descending Night in the background; right: Alton Kelley in the Sixties.
Weinman didn't live long enough to see his work exploited on a gaudy concert poster and given his adherence to a pre-Modern, Beaux-Arts style it's perhaps just as well. He's most remembered today for his Liberty design for the American Silver Eagle which also used Audrey Munson as the model. Ms Munson lived to 1996 so I can't help wonder if she ever saw her youthful figure return on Mouse and Kelley's poster. The same year as the San Francisco Exposition she played an artist's model in Inspiration, a film by George Foster Platt which is only notable now for being the first American non-porn film to feature a nude woman. She stripped off again a year later for Rae Berger's Purity. Audrey was 76 in 1967 but something tells me she that her free spirit would have identified with the Summer of Love more than many others of her generation.
Elsewhere on { feuilleton }
• The illustrators archive
Previously on { feuilleton }
• The Evanescent City
• Family Dog postcards