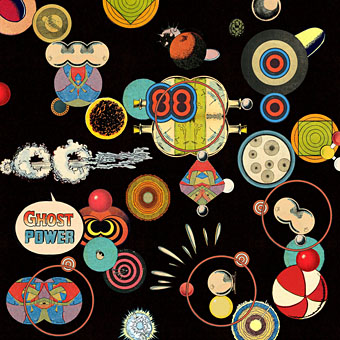 Uncredited cover art for the forthcoming Ghost Power, the debut album from the group of the same name, a collaboration between Jeremy Novak (Dymaxion) and Tim Gane (Stereolab, Cavern Of Anti-Matter).
• Objective correlatives: "In compiling the following list of influences and inspirations for my memoir, Modern Instances: The Craft of Photography, I had a certain, specific range of aesthetic experiences in mind," says Stephen Shore.
• "Smoking toad has been likened, in one guide to psychedelics, to 'being strapped to the nose of a rocket that flies into the sun and evaporates.'" Kimon de Greef on The Pied Piper of Psychedelic Toads.
• "I've always been fascinated by the idea that before there was language there was music," says Meredith Monk.
• Coming soon from Strange Attractor: Obsolete Spells – Poems and Prose from Victor Neuburg and the Vine Press.
• "…scepticism is not simply about knowledge or language. It is a way of life," says Nicholas Tampio.
• Life during wartime: Jonathan Wright on Radio Tisdas and the roots of Tinariwen.
• Mix of the week: A Hallow Ground mix for The Wire.
• Volunteers rally to archive Ukrainian web sites.
• The Strange World of…Ahmed Abdul-Malik.
• I Put A Spell On You (1965) by Nina Simone | Cast A Spell (1969) by The Open Mind | Spinning A Spell (1970) by Mystic Siva