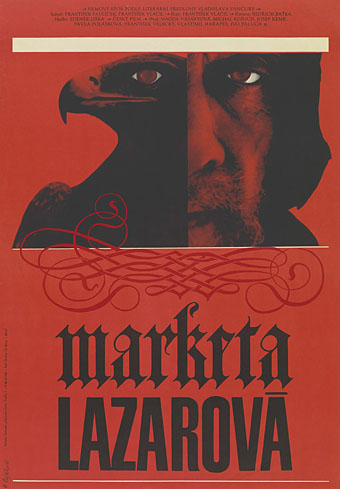 Poster by Zdenek Ziegler for Marketa Lazarová (1966), a film by Frantisek Vlácil.
• I've spent the past couple of weeks watching a number of films by Béla Tarr, including his 432-minute masterwork, Sátántangó (1994). The latter was based on a novel by László Krasznahorkai, an author who not only worked with Tarr on the screenplay but helped with several of his other features. So this piece by David Schurman Wallace, about a more recent Krasznahorkai novel, Baron Wenckheim's Homecoming, arrives at just the right moment.
• The Paris Review unlocked its Art of Fiction interview with Italo Calvino. William Weaver and Daniel Pettigrew ask the questions. And at the same site: Ivan Brunetti on the deceptive simplicity of Charles Schulz's Peanuts.
• Halloween approaches so Sudip Bose suggests 10 pieces of orchestral music to set the mood. I made a similar list of my own in 2011. Related: Adam Scovell on 10 lesser-known folk horror films.
I thought, "When I grow up, I'm going to be in a group making this kind of music." Slowly and Shirley, I did grow up and found myself in a group but they weren't making that kind of music. It was a hole of longing in my guts that I needed to fix.

Andy Partridge, aka Sir John Johns, on his love of psychedelic music and the remixed reissue of the Dukes Of Stratosphear catalogue
• Faye Lessler on how the Internet Archive is digitizing LPs to preserve generations of audio.
• Photographing the Dark: Allison C. Meier on Nadar's descent into the Paris Catacombs.
• At Wormwoodiana: Go Back at Once, Robert Aickman's unpublished second novel.
• Queen of the Flies: Mica Levi talks to Charlie Bridgen about her soundtrack music.
• At Dangerous Minds: Sex, Nazis, and classical music: Ken Russell's Lisztomania.
• The first new Ghost Box recording artist of 2020 will be…Paul Weller.
• Mix of the week: There's No Going Back by The Ephemeral Man.
• The Dead Travel Fast: The Gothic Ballad of Lenore in paint.
• Catacombs/Cum Mortuis In Lingua Mortua (1980) by Mussorgsky (George Solti/Chicago SO) | Fade In Hong Kong (1981) by Video Liszt | La Ballade De Lenore (1986) by Shub-Niggurath