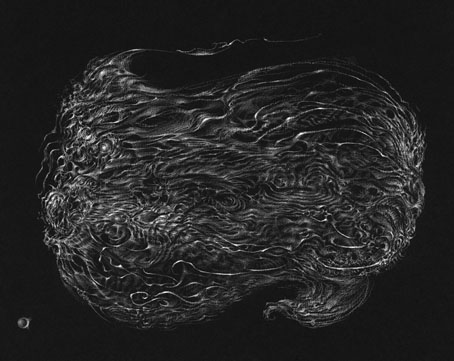 Genesia (2011) by Bette Burgoyne.
• "…so I started buying these old gay porn novels, just for the covers and kept on collecting them." Maitland McDonagh on the underexamined world of gay pulp. McDonagh's 120 Days Books is reprinting some of these scarce titles. More gay erotica: Plans are afoot to republish Des Grieux, the rare prequel to Teleny or The Reverse of the Medal (1893), a novel often attributed (without much evidence) to Oscar Wilde.
• Merricat is the name under which the Turrell Brothers, John & Tom, produce their atmospheric "nacht music". Albums with titles such as Oneiros, Widdershins and Zerkalo give an idea of the spheres of interest. They also make short films, clips from which may be seen here.
• "Fascists don't like satire. They don't like it at all. And they especially don't enjoy visual satire. Because of its unique power to communicate." Ralph Steadman talking to Robert Chalmers about recent events.
There is an unexamined commonplace now floating around the social media, which has it that satire derogates its proper function when it stops targeting the powerful, and targets the relatively powerless instead. Theodor Adorno has also been cited here and there with his remarks on satire in the Minima Moralia of 1951, but few have noticed that the account he offers there stands in direct contradiction to the current received wisdom. For Adorno, satire is in its essence wistful and traditionalist. It looks back to something that has been lost, and dismisses the straight-facedness of everyone who attempts, against all evidence, to maintain the illusion that there is anything respect-worthy about the present state of things. It targets not just elected officials, but the yokels who elected them; not just the honcho who runs the saloon, but the sucker who hands over his last possessions at the poker table. There is a need for this: the yokels and the suckers need it most of all. There is redemption in it, and I confess to harboring whatever amount of traditionalism it takes to appreciate this redemptive quality.

Paris, 2015: a lengthy meditation by Justin EH Smith on the responses of left and right to the Charlie Hebdo killings
• "When the surface of the world is so overloaded with competing narratives…there is an understandable impulse to go underground." Iain Sinclair on the excavation of London.
• More German music: Sinai Desert (1981) and Kailash, Pilgerfahrt Zum Thron Der Götter (no date), two films with music by Popol Vuh.
• Kim Fowley: Sins & Secrets of the Silver Sixties. UglyThings Magazine makes available its definitive Fowley interview from 2001.
• More electronica and mix of the week: the FACT guide to the Yellow Magic Orchestra and associates.
• Vegetable-snake Undersea Beings: Allen Ginsberg writes to the Paris Review about LSD in 1966.
• The Edge Question for 2015: What do you think about machines that think?
• Life of Cats: Selections from the Hiraki Ukiyo-e Collection.
• NGC 891 (1974) by Edgar Froese | Overture (1974) by Tangerine Dream | PA 701 (1976) by Edgar Froese