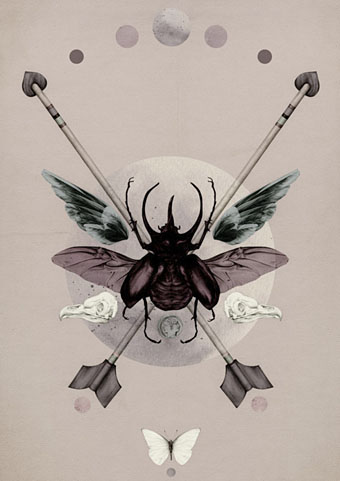 Wunderkammer (2011) by Emma Leonard.
As someone who was eight years old at the time of the Apollo moon landing, I remember calculating that I would be thirty-nine in the magic year 2000 and wondering what the world would be like. Did I expect I would be living in such a world of wonders? Of course. Everyone did. Do I feel cheated now? It seemed unlikely that I'd live to see all the things I was reading about in science fiction, but it never occurred to me that I wouldn't see any of them.
A quote from Of Flying Cars and the Declining Rate of Profit, an essay by David Graeber. Related: Another World: David Graeber interviewed by Michelle Kuo at Artforum.
• Constellation, a series of portraits by Kumi Yamashita: "This body of work consists of three simple materials that, when combined, produce the portraits: a wooden panel painted a solid white, thousands of small galvanized nails, and a single, unbroken, common sewing thread."
• Nicole Rudick at The Paris Review on the history of psychedelic art. Related: The psychedelic art and design of Keiichi Tanaami. Also Manifesting the Mind: Footprints of the Shaman, a two-hour documentary about psychedelic drugs.
• Already mentioned here, The Lost Tapes, a 3-CD collection of previously unreleased recording by the mighty Can, is out on Monday. There's a preview of ten of the tracks here.
• "I can't think of anybody who would have a good word to say for centipedes…" Duncan Fallowell (a Can associate for many years) interviewed William Burroughs in 1982.
• Herb Lubalin: American Graphic Designer and the Herb Lubalin Study Center's Flickr sets.
• Strange Flowers goes to the movies with everyone's favourite Bavarian king, Ludwig II.
• The Sphinx's Riddle: The Art of Leonor Fini at the Weinstein Gallery, San Francisco.
• More Teutonica: A Spacemusic Primer by Dave Maier.
• Van Dyke Parks: return of a musical maverick.
• Forty Posters for Forty Years at Pentagram.
• Donovan's Colours (1968) by Van Dyke Parks | Sailin' Shoes (1972) by Van Dyke Parks | Clang Of The Yankee Reaper (1975) by Van Dyke Parks.