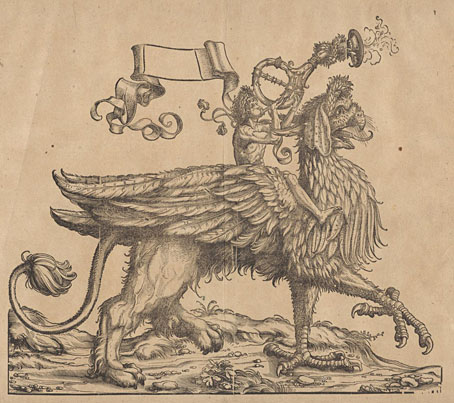 Herald on Griffin (1516-1518) from The Triumphal Procession of Emperor Maximilian I series by Hans Burgkmair the Elder.
• My design and illustration work for Pirate Utopia by Bruce Sterling continues to gain favourable comments, a novelty when reviewers often pass over the visual component of the books under their consideration. One of the most recent examples is in the latest edition of Locus Magazine; this can only be read in full by subscribers but the Tachyon Tumblr has an extract.
• Paul La Farge on the complicated friendship of HP Lovecraft and Robert Barlow. Related: The Night Ocean, a short story by Barlow & Lovecraft. Meanwhile, Lovecraft enthusiasts are still raising money for a Providence statue (spot my art and design work in the photo of the Lovecraft Art and Sciences Council).
• At The Quietus this week: Children Of Alice talk to Patrick Clarke about audio collage and English Surrealism, Lottie Brazier enters The Strange World of Annette Peacock, and Manuel Göttsching tells Robert Barry how Ash Ra Tempel became the loudest band in Berlin.
• "Mind the doors!" Eight reviewers pick ten films featuring the London Underground. Not a bad list but choosing a Doctor Who film while ignoring the great Quatermass and the Pit (1967) is an error.
• Mixes of the week: Swedenborgian Hobos by acephale, Secret Thirteen Mix 214 by Fabio Perletta, and a mix for NTS by Six Organs Of Admittance.
• More Surrealism: Leonor Fini, Surrealist Sorceress, a lecture by Dr Sabina Stent, will take place at Treadwell's Bookshop, London, on 19th May.
• "Michael Chapman's road-weary guitar resonates with a new generation," says Joel Rose.
• A Journey Round my Room (1794), a book by Xavier de Maistre.
• Lyrical Nitrate (1991), a film by Peter Delpeut.
• The Sorcerer (1967) by Miles Davis | Impressions Of Sorcerer (1977) by Tangerine Dream | Venom Sorcerer (2014) by Cultural Apparati