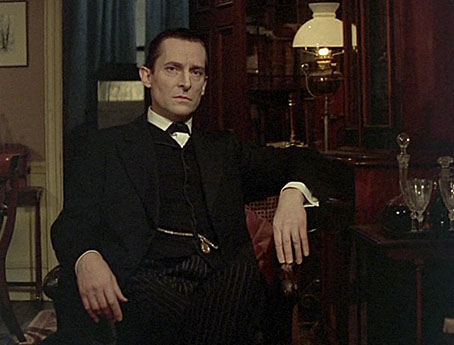 Jeremy Brett in The Adventure of the Blue Carbuncle.
A few words of praise for Jeremy Brett is his role as the world's greatest detective, for my money the definitive screen Sherlock Holmes. I've spent the past few weeks working my way through the complete run of TV adaptations that Granada Television produced from 1984 to 1993, being bowled over again by Brett's mastery of the role. It took me a while to notice these when they were first screened, British television was churning out a lot of costume drama at the time and the sight of more Hansom cabs and gas lamps paled beside the audacity and excitement of contemporary thrillers such as the BBC's Edge of Darkness. I think I caught on during the second season that Brett's performance was something special, and that these adaptations were treating the Holmes stories with a veracity rarely seen before.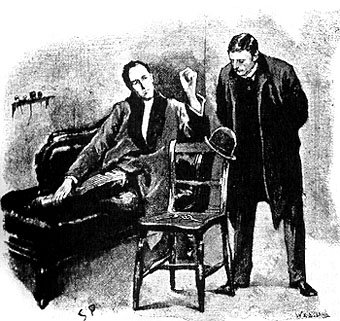 The Adventure of the Blue Carbuncle by original Holmes illustrator Sidney Paget.
Brett was a dependable but not necessarily distinguished actor prior to Sherlock Holmes. Having been passed over for James Bond in favour of Roger Moore in the Seventies, he seemed determined to make an impression with a role that's become a challenge over the years given the weight of precedent attached to it. He pored over the books obsessively and even argued with directors over minor story points if he felt that Conan Doyle's intentions were being lost. I remember finding his performance a bit eccentric at first but his unorthodox portrayal of a gentleman—vaulting over a couch to answer the door—helped separate him from the stock of solid Victorian types around him and acted as a visual signifier of the detective's genius. Brett was very energetic in the first few seasons and always great in the close-ups, with a furious intensity that believably portrayed a man possessed of a brain working several orders of magnitude above the ordinary. We know now that some of that intensity was a result of his manic depression which worsened following his wife's death in 1985.
But a great performance wouldn't have shone without a suitable setting and it's to Granada's credit that they went to so much trouble over period detail. A Victorian-era Baker Street was built outdoors at the Granada studios complete with fully-stocked shop interiors. One of the pleasures for this Manchester citizen is seeing how many familiar locations our local TV company used. I recall walking past Manchester Town Hall circa 1988 when filming was taking place there, with vans along the street and a horse and carriage waiting to be called. They used the Town Hall courtyard a great deal, over-much if you recognise Alfred Waterhouse's Venetian Gothic architecture. Splendid use is made of some of England's country houses and there are some stunning shots later of genuine London streets which—with judicious camera placement and a few costumed extras—still looked as they did in 1900.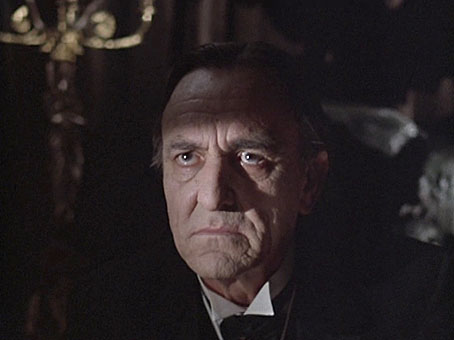 Eric Porter as Professor Moriarty.
Most crucially, the stories were taken seriously on their own terms, without any of the cliché that's become a feature of so many screen representations of Holmes. Some liberties are taken now and then with the adaptations but for the most part the stories (and the audience) are treated with respect. (It's a surprise now to see a primetime TV drama have its main character quote Flaubert in French and offer no translation.) The deerstalker hat appears occasionally but only when Holmes and Watson are in the country; in the city Holmes wears a silk topper. And the character of Watson is always portrayed sympathetically by David Burke (who left after series two) and Edward Hardwicke, both worlds away from the bumbling Nigel Bruce in the Basil Rathbone films. Guest support in each episode came from a range of great British acting talent—Charles Gray (as Mycroft), Eric Porter (as Moriarty), John Thaw, Dennis Quilley, Harry Andrews, Ronald Lacey, Rosalie Crutchley—so many of whom have died in recent years that the series now has a strangely melancholy atmosphere, like watching a procession of ghosts.
Holmes obsessives can and do quibble over the merits of these adaptations but we're unlikely to see the (nearly) entire run of stories filmed so faithfully any time soon. The Granada films were all shot on 16mm, a relatively cheap format no longer used in television. To repeat this effort would be ruinously expensive, even if they could find actors to match Brett and company. For that reason it's unfortunate that the company didn't manage to fulfil its intention of filming all the stories but Jeremy Brett's health grew increasingly worse from 1990 onwards. The really sad thing about watching the films from start to finish is seeing his deterioration in the final episodes from the energetic actor that began the series. He died of a heart attack in 1995. But it's the energetic actor that we remember and celebrate, and the performance that remains his monument.
Previously on { feuilleton }
• Steven Soderbergh's Kafka
• Judex, from Feuillade to Franju
• Zeppelin vs. Pterodactyls
• Boys Own Books