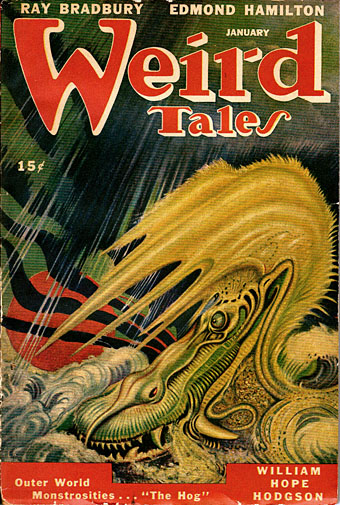 William Hope Hodgson's final Carnacki mystery, The Hog, received its first magazine publication in January 1947. The cover art by AR Tilburne may not have been originally created for Hodgson's tale but it complements the story's atmosphere of febrile dread.
• It's still April so that means it's still the month that saw the 100th anniversary of the death of William Hope Hodgson, bodybuilder, manacler of Harry Houdini, and the author of several novels of weird fiction that continue to entrance new generations of readers. The edition of Hodgson's The House on the Borderland that I illustrated for Swan River Press would have been on sale this month but print problems have caused delays with the run as a whole; anyone interested is advised to contact the publisher for news. • Meanwhile, Jon Mueller (composer of the book's accompanying soundtrack CD) and myself talked to Swan River Press about the attractions of Hodgson's novel. • More Hodgsoniana: Greydogtales acknowledged the Hodgson centenary via a discussion with Hodgson scholar Sam Gafford, while Michael Dirda reviewed the new edition of The House on the Borderland and another SRP title, The Scarlet Soul (whose cover I also designed), for The Washington Post.
• "From the ashes of countless decayed Modernities comes Neo-Decadence, a profaned cathedral whose broken stained glass windows still glitter irregularly in the harsh light of a Symbolist sun. Behind this marvellously vandalised edifice, a motley band of revellers picnic in the graveyard of the Real, leaving behind all manner of rotting delicacies and toxic baubles in their wake." Drowning in Beauty: The Neo-Decadent Anthology edited by Daniel Corrick & Justin Isis is published this month by Snuggly Books, an imprint whose catalogue of new books and first-time translations will be of interest to anyone who comes here for Decadence, Symbolism or anything related. Related to the above: A Neo-Decadence Day at Dennis Cooper's.
• "Witches are change-makers. They're transgressive beings who dwell on the fringes of society, and so they're the perfect icon for rebels, outsiders, and rabble-rousers, especially those of the female persuasion." Pam Grossman talks to Grimoire about witchcraft and related arts.
• Mixes of the week: Resident Advisor Podcast 621 by Grouper, and Bacchus Beltane 5: The Owl Service by The Ephemeral Man.
• Back in black: Publisher/translator James Conway and designer Cara Schwartz on the cover designs of Rixdorf Editions.
• I was talking again this week at The Writer's Corner where JKA Short asked me about working as an illustrator.
• All Gates Open: The Story of Can by Rob Young is published next week. The Wire has an extract.
• Delusional Albion: Brad Stevens on how foreign directors saw Britain in the Swinging Sixties.
• "There's no book I love more than Derek Jarman's Modern Nature," says Olivia Laing.
• Eden Tizard on Soliloquy For Lilith, the drone album by Nurse With Wound.
• Owls (1969) by Ruth White | Decadent & Symmetrical (1995) by ELpH vs Coil | The Owls (2013) by Félicia Atkinson