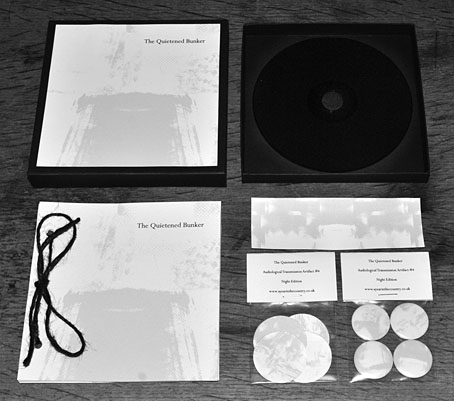 Bunkers were a recurrent feature in the media of the 1980s, a consequence of increasing Cold War tensions following the election of Ronald Reagan and the Soviet invasion of Afghanistan. The decade birthed new horrors of the body-mutating variety, and also reanimated some older ones in the figure of the knife-wielding psychopath, but the omnipresent spectre of nuclear war posed a threat not only to characters in films and TV serials but to the audiences who watched them. That threat manifests most strikingly in the middle of the decade with the TV film Threads (1984), the TV serial Edge of Darkness (1985), and the comic-book serial/graphic novel Watchmen (1986–87). To these you could add feature films such as WarGames (1983) and James Cameron's The Terminator (1984) and its sequel. Not all of these works feature bunkers but nuclear warfare by its very nature implies the existence of subterranean control centres with all their latent mythological resonances. Some of those resonances are played with in David Rudkin's Penda's Fen (1974) and Artemis 81 (1981), the latter featuring an extended sequence in a sinister subterranean complex. Troy Kennedy Martin's superb nuclear thriller, Edge of Darkness, runs the gamut of underground enclaves, from labyrinthine cave systems and abandoned nuclear shelters to a dusty Cold War command centre with a telephone link to Downing Street.
Bunkers of the abandoned variety provide the theme for the latest compilation album from A Year In The Country:
The Quietened Bunker is an exploration of the abandoned and/or decommissioned Cold War installations which lie under the land and that would have acted as selectively populated refuges/control centres if the button was ever pushed; a study and reflection on these chimeric bulwarks and the faded but still present memory of associated Cold War dread, of which they are stalwart, mouldering symbols.

Track list:
1) Lower Level Clock Room – Keith Seatman
2) Drakelow Tunnels – Grey Frequency
3) The Filter's Gone / The Last Man Plays The Last Piano – A Year In The Country
4) Aggregates II – Panabrite
5) Bunker 4: Decommissioned – Polypores
6) Comms: Seen Through The Grey – Listening Center
7) Crafty Mechanics – Time Attendant
8) Crush Depth – Unknown Heretic
9) Waiting For The Blazing Skies – David Colohan
This is another quality collection in distinctive black-and-white packaging that will be of immediate interest to anyone who enjoys the releases on the Ghost Box label (Listening Center are already Ghost Box artists): spectral pianos, shortwave radios, ambient chords. The bunker theme connects to shared concerns among related artists with the old Civil Defence films, samples of which have been used on releases by The Advisory Circle and Mordant Music. The Cold War bunker is more than another empty space, it joins the bio-weapons lab (see The Satan Bug) as a source of contemporary horror that doesn't require any supernatural component to chill the blood.
Previously on { feuilleton }
• Fractures