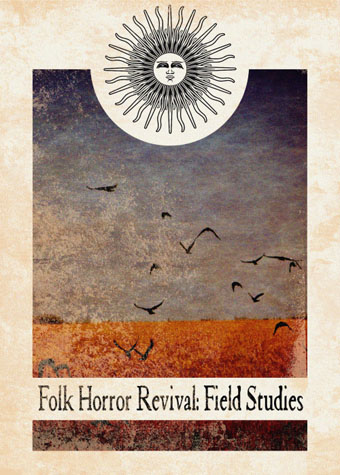 The particularly British sub-genre of folk horror receives a substantial examination in Folk Horror Revival: Field Studies, a 500-page collection of essays, interviews and artwork edited by Andy Paciorek.
Featuring essays and interviews by many great cinematic, musical, artistic and literary talents, Folk Horror Revival: Field Studies is the most comprehensive and engaging exploration to date of the sub-genre of Folk Horror and associated fields in cinema, television, music, art, culture and folklore.

Includes contributions by Kim Newman, Robin Hardy, Thomas Ligotti, Philip Pullman, Gary Lachman and many many more.

100% of all profits from sales of the book will be charitably donated to environmental, wildlife and community projects undertaken by The Wildlife Trusts.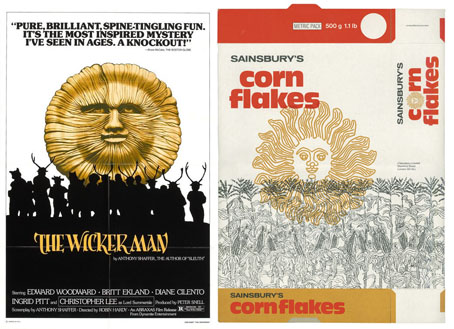 Nuada rising, 1973 & 1976.
Among the contents there's my 4000-word essay Sacred Demons: The Dramatic Art of David Rudkin, parts of which will be familiar to readers of my previous posts about Rudkin's work. I'm not sure Rudkin would appreciate being subjected to such a narrow focus when his plays and TV films are much more personal and cerebral than most generic entertainments. But there is an intersection in a number of them with folk horror at its widest reach, and Rudkin did happen to adapt The Ash-Tree (1975) by MR James for the BBC's series of ghost stories at Christmas. My piece covers this along with other TV films such as Penda's Fen (1974) and Artemis 81 (1981), and many of the stage plays including Afore Night Come (1962), The Sons of Light (1965/76) and The Saxon Shore (1983). The stage plays I only know from their scripts which makes them difficult to appraise; maybe the renewed interest in Rudkin's work will spur some revivals.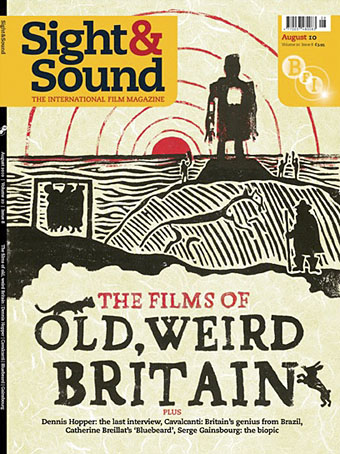 Sight and Sound, August 2010. Illustration by Becca Thorne.
Paciorek's book isn't solely concerned with British subjects, other essays include studies of Weird Americana, the music of The Cremator and Morgiana, and Czech folk horror. The Lulu page apparently didn't allow the listing of a full table of contents so I'm posting the details below.
• Foreword, Disclaimer & Acknowledgements
• Folk Horror: From the Forests, Fields and Furrows; An Introduction by Andy Paciorek
• Subtle Magic and the Thrill of The Wicker Man by Sharron Kraus
• An Interview with Kim Newman
• Public Information Films: Play Safe by Grey Malkin
• An Interview with Philip Pullman
• Hysteria and Curses in Nigel Kneale's Baby (Beasts) by Adam Scovell
• An Interview with Paul Rumsey
• The Green Children of the Woolpits by Karl Shuker
• Sacred Demons: The Dramatic Art of David Rudkin by John Coulthart
• The Last Broadcast by Rich Blackett
• Folklore and the River: A Reflection on Davis Grubb's The Night of the Hunter by Stephen Canner
• Quatermass II (Nigel Kneale): The Fears of the Outsider Within the Landscape by Adam Scovell
• An Interview with Gary Lachman
• Weird Americana by Andy Paciorek
• An Interview with Julia Jeffrey
• The Wanderings of Melmoth by Jim Peters
• The Traditional Jack in the Green by Chris Walton
• Ghosts, Landscape and Science by Nick Brown
• An Interview with Dr Bob Curran
• The Music of The Cremator and Morgiana by Grey Malkin
• One Small Step for Man: Hunting the Nephilim by Cobweb Mehers
• A Paean to Peter Vaughan by Andy Paciorek
• Other Thoughts, Other Voices: Cults, Hive Minds and a New Philosophy of Horror in the Work of John Wyndham by Dan Hunt
• The Haunted Landscape of Brian Eno: Ambient 4: On Land by Adam Scovell
• Srpski Vampir by Lauri Löytökoski
• The Primrose Sloop of War by Chris Bond
• Phantasms of the Floating World: Tales of Ghostly Japan by Andy Paciorek
• The Folk Horror of Doctor Who by Adam Scovell
• Colin Wilson: Reflections on an Outsider by Gary Lachman
• Morgaine Art by Karen Hilder
• An Interview with Andrew McGuigan: Cumbrian Cthulhu
• Paul Ferris: Witchfinder General Soundtrack Review by Grey Malkin
• An Interview with Thomas Ligotti by Neddal Ayad
• "Just That Little Bit Dark, Haunting and Dramatic": An Introduction to The Hare and the Moon by Jim Peters & Grey Malkin
• An Interview with Dr Simon Young – The Fairy Investigation Society
• Nordic Twilight: Scandinavian Horror by Andy Paciorek
• "See Ye Not That Bonny Road?": Places, Haunts and Haunted Places in British Traditional Song by Clare Button
• Kill Lists: The occult, paganism and sacrifice in cinema as an analogy for political upheaval in the 1970s and the 2010s by Aaron Jolly
• MR James: The Presence of More Formidable Visitants by Jim Moon
• An Interview With Drew Mulholland
• Albion's Children: The Golden Age of British Supernatural Youth Drama by Andy Paciorek
• The Sacred Theatre of Summerisle by John Harrigan
• All you Ever Knew About Vampires Is Wrong: A Transcript of a Fortean Meeting Talk by Tina Rath
• An Interview with Robin Hardy
• The Haunted Fields of England: Diabolical Landscapes and the Genii Locorum by Phil Legard
• Sauna: Abjection and Redemption in the Liminal Spaces by Madeleine Ledespencer
• Hell's Angel Blake – An Annotated Guide to a Coven at Bix by Andy Sharp
• The Old Hag Phenomenon by Jasmine Gould
• The Olde World Mythology Behind Saurimonde by Scarlett Amaris & Melissa St Hilaire
• Unearthing Forgotten Horrors by Darren Charles
• An Arthurian Antichrist: Alternate Readings of Kill List by Andy Paciorek
• Darkness, Beauty, Fear and Wonder: Exploring the Grotesque and Fantastical World of Czech Folk Horror by Kat Ellinger
• Folk Horror and the Virtual Demiurge – Making False Trails – How Lies Can Be Used to Create New Folklore by Chris Lambert
• Women of Power and Justice: Witches in Folk Horror Movies by Judika Illes
• An Interview With Alan Lee
Previously on { feuilleton }
• The Living Grave by David Rudkin
• In the Mind's Eye
• Owls and flowers
• Summerisle revisited
• Summerisle souvenirs
• To Kill a King by Alan Garner
• Afore Night Come by David Rudkin
• White Lady by David Rudkin
• Wicker mania
• Red Shift by Alan Garner
• Milbury souvenirs
• Children of the Stones
• Penda's Fen by David Rudkin
• David Rudkin on Carl Dreyer's Vampyr