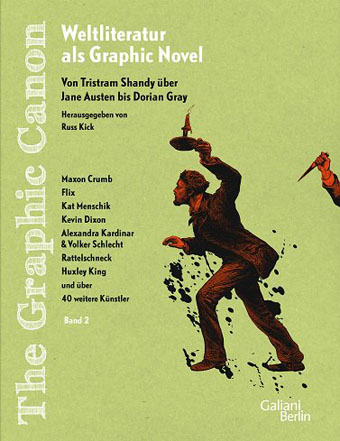 Some of the art from my collage adaptation of The Picture of Dorian Gray appears on the cover of The Graphic Canon: Volume 2, published this month in a German edition by Verlag Galiani. Out next month (although possibly available now) is the same book in a Brazilian edition from Boitempo Editorial. One of the disappointments this year was having to abandon plans to contribute to Russ Kick's forthcoming graphic canon of crime fiction. I was overstretched during the summer, and what with projects slipping their deadlines and the trip to Providence there wasn't any time left for other things.
• For those who missed the first edition, a second and final expanded edition of the Penda's Fen study/celebration The Edge Is Where The Centre Is.
• Whipping up a storm: how Robert Mapplethorpe shocked America; Kevin Moore on the photographer's Perfect Moment exhibition.
In the best scenario, metaphysical art distributes the work of understanding among cultural traditions and symbolic systems, and it is along these lines that Carrington's work has been described as a productive combination of Mexican, Egyptian, Hebrew, Celtic, Greek, and Mesopotamian elements. Her paintings, plays, and stories mix the symbols of alchemy, astrology, Tarot, herbalism, magic, witchcraft, and a personal iconography.

Leif Schenstead-Harris on the life, art and fiction of Leonora Carrington
• Mixes of the week: Hieroglyphic Being collects favourite cosmic jazz of the 1970s; NTS Radio presents an hour of Annette Peacock.
• At Kill Your Darlings: Alexandra Heller-Nicholas enthuses about Dario Argento's delirious masterwork, Suspiria.
• Pye Corner Audio releases a new album (only limited vinyl at the moment—boooo!) and remixes Stealing Sheep.
• The Trip Planners: Emily Witt meets the founders behind Erowid, the online drug encyclopedia.
• Woven Processional (1985), music on the Long String Instrument by Ellen Fullman.
• "The Paris attacks prove Charlie Hebdo's critics wrong," says Dorian Lynskey.
• Photographs by Danila Tkachenko of abandoned Soviet technology.
• Come Wander With Me / Deliverance by Anna von Hausswolff.
• The collages of Guy Maddin.
• Let's Take A Trip (1965) by Godfrey | Trip On An Orange Bicycle (1968) by The Orange Bicycle | Last Trip (1968) by We Who Are