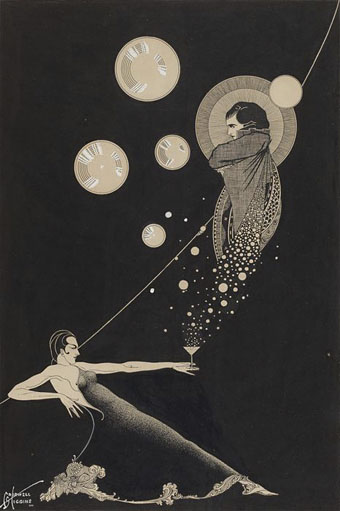 A Delightful Page in the Record of My Existence.
This picture popped up at Chateau Thombeau a few days ago and it's also been circulating in Tumblr's recursive labyrinth. The very obvious debt to Harry Clarke's black-and-white style caught my attention, especially to the artist's Poe illustrations with the reclining woman being a blatant swipe from one of the Pit and the Pendulum drawings.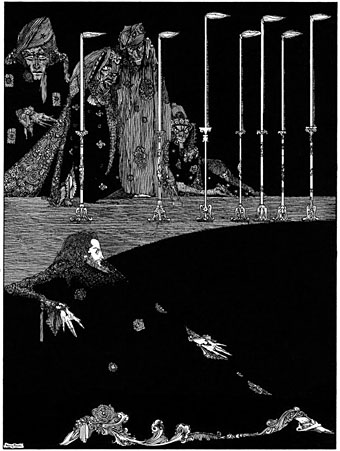 The Pit and the Pendulum (1919) by Harry Clarke.
Searching around revealed that the artist responsible, Cardwell Higgins, produced a small series of similar pieces in the late 1920s. He then settled into a career as an illustrator for American magazines and advertising, working in a far more commercial style which isn't really the kind of thing I get very excited over. Six drawings from the black-and-white series were published as a lthograph set in 1979. Some of the originals came up for sale recently which accounts for the surfacing of these copies.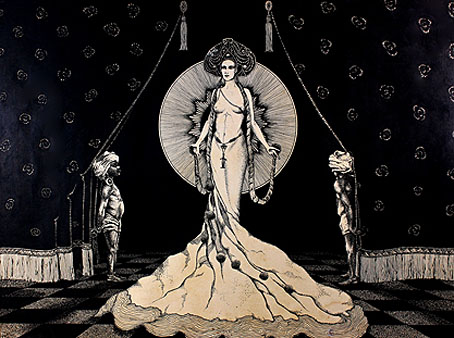 Persian Orientalist Showgirl.
The Grapefruit Moon Gallery has this piece listed as being a 1927 design for Paramount Pictures. They also have a page about the artist's later career here and other work, including details of the Siamese Dancers (below) here.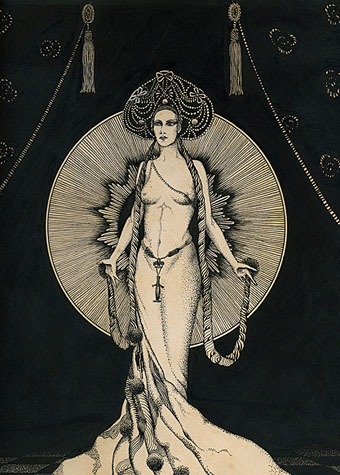 Persian Orientalist Showgirl (detail).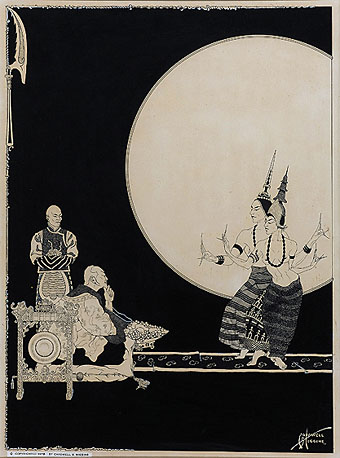 Siamese Dancers.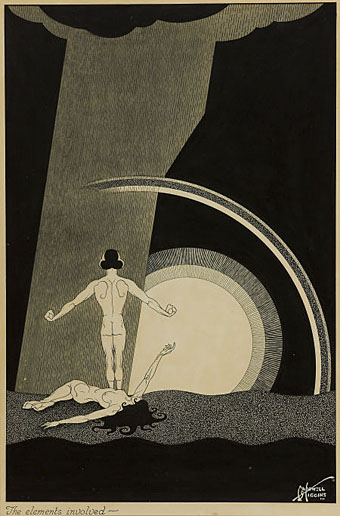 The Elements Involved.
The Circle of Life.
The Circle of Life / The Perfect Man and Perfect Woman, seeking one another in unison / For the creation of the Perfect Child; / With the Protecting Hand of the Father and the Supporting Hand of the Mother, / The embodiment of Father, Mother and Child is the total life. / The Sun, the supplier of the life-giving elements necessary for survival. / The Hourglass of Time. / The Evil influence that comes into their lives; / The slowly burning candle of Life, And the inevitable—Death! / By Cardwell S. Higgins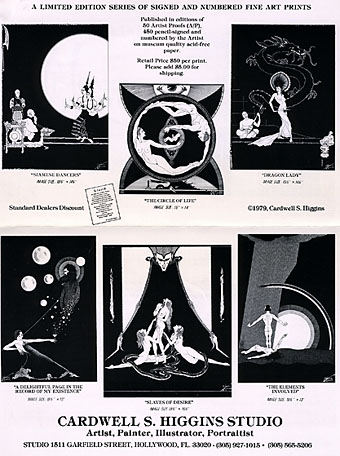 An ad for the lithograph set.
Elsewhere on { feuilleton }
• The illustrators archive
Previously on { feuilleton }
• Modern book illustrators, 1914
• Illustrating Poe #3: Harry Clarke
• Strangest Genius: The Stained Glass of Harry Clarke
• Harry Clarke's stained glass
• Harry Clarke's The Year's at the Spring
• The art of Harry Clarke, 1889–1931