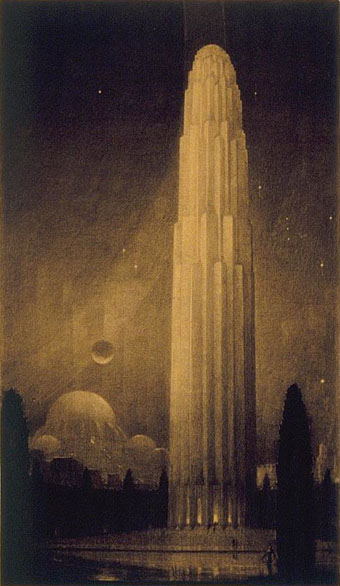 Philosophy from The Metropolis of Tomorrow (1929).
I've procrastinated for an entire year over the idea of writing something about Hugh Ferriss and now this marvellous Flickr set has forced my hand. Ferriss (1889–1962) was a highly-regarded architectural renderer in the Twenties and Thirties, chiefly employed creating large drawings to show the clients of architects how their buildings would look when completed. But he was also an architectural theorist and his 1929 book, The Metropolis of Tomorrow, which lays out his ideas for cities of the future, was a major influence on the work I produced for the Lord Horror comics during the 1990s. Ferriss's book appeared two years after Fritz Lang's Metropolis but bears little resemblance to Lang's simplistic tale, despite superficial similarities. Rather than a science fiction warning, The Metropolis of Tomorrow was a serious proposal for the creation of Art Deco-styled megacities.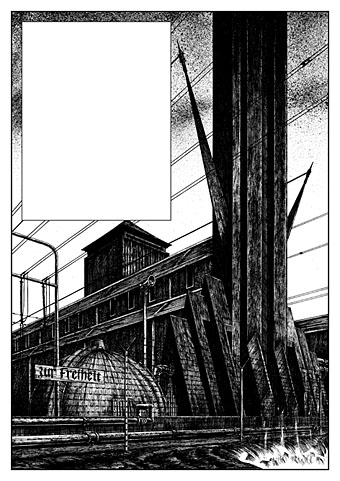 Lord Horror: Hard Core Horror #5 (1990).
The Flickr collection is a mixture of Ferriss's visionary views and more mundane renderings of American skyscrapers. His idea of the city of the future frequently involved rows of towering skyscrapers separated by multi-lane superhighways, a discredited concept now but this doesn't remove the compelling "what if?" quality from the drawings. The brooding, silhouetted aspect of his work is one of the things which made it attractive to me. Unlike his contemporaries in the rendering field, he often eschewed detail in favour of mass and presence, powerfully evoking the sense of a building as a solid form rather than a mere façade. It's easy to push that approach further to create buildings that loom and threaten, which is exactly what I did in the Reverbstorm comics, borrowing his technique of applying a mass of shadow to the tops of buildings.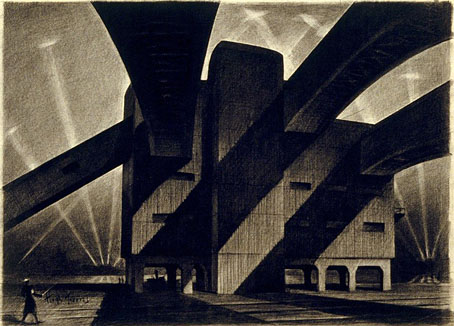 (No title).
The Metropolis of Tomorrow used to be available only as an expensive facsimile edition from The Architectural Press. Happily Dover Publications have now produced their own version although the Amazon reviews criticise its reproductions. I haven't seen the Dover book but I doubt it includes the long Ferriss essay from the facsimile edition. That essay features many further examples of his speculative drawings including those shown below.
Update: There's some page scans from Metropolis of Tomorrow at The Nonist.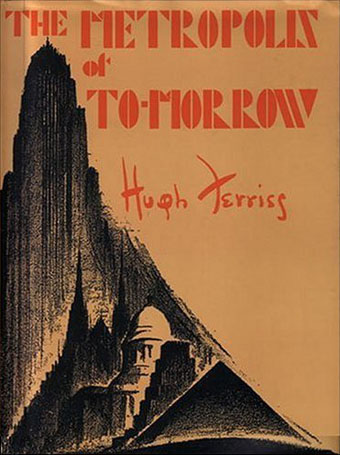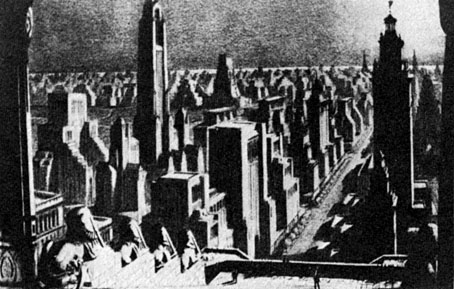 New York in 1942 (1922).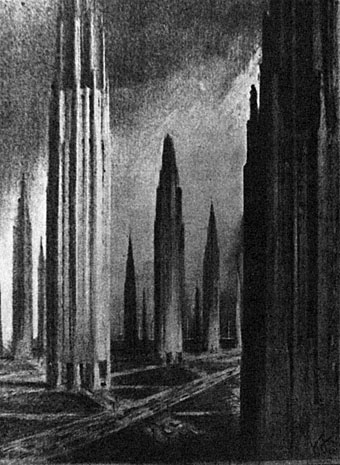 A City of Needles (1924).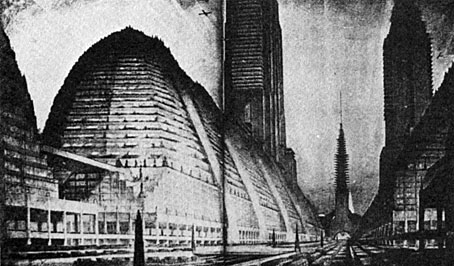 Forecast of the city of the future (1928).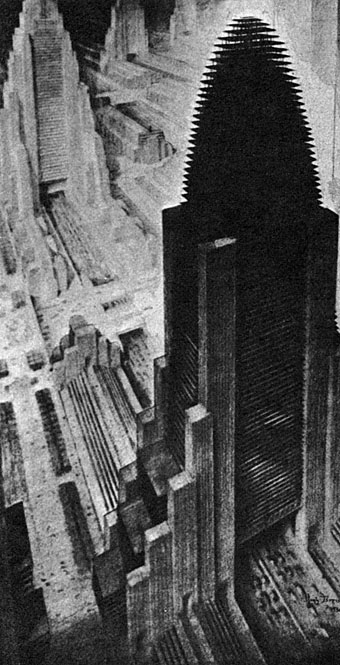 Aerial view of an imaginary city (1930).
Elsewhere on { feuilleton }
• The illustrators archive
Previously on { feuilleton }
• Architectural renderings by HW Brewer
• The World in 2030
• Metropolis posters
• Frank Lloyd Wright's future city