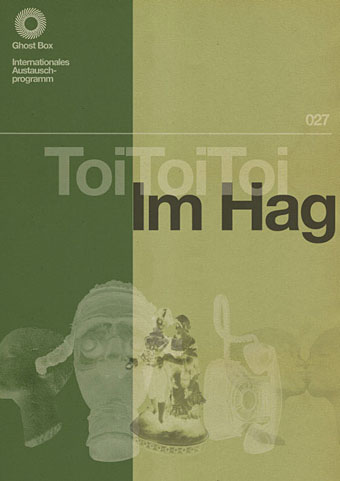 Im Hag by ToiToiToi will be Ghost Box 027, available from 12th May. Poster and album design, as always, by Julian House.
• The week in the electronic outer limits: The Haxan Cloak recorded a new piece of music using Moog's Mother-32 modular synths; The Herzog Tapes is a new album by The Electric Pentacle; and Drew McDowell (ex-Coil, etc) has a new album, Unnatural Channel, out next month. (Vinyl-only, unfortunately, like his previous album.)
• More from Vinyl . Album . Cover . Art: The Complete Hipgnosis Catalogue by Aubrey Powell: How to design a record cover in 1977. The feature is a duplicate of Storm Thorgerson's account in the first Hipgnosis book but since that volume has been out of print for decades it stands repeating.
• Talismanic Bookseller: Erik Davis talks to occult-book dealer and musician Richard Bishop talks about modern grimoires, scorpion gods, Orientalist imagery, and hunting down physical books in the age of the Internet.
• Arbery Books, "the UK's leading online dealer in rare and secondhand books and ephemera of gay, lesbian and transgender interest", is closing its website at the end of May so there's a sale on.
• Amours Secrètes: Dans L'intimité Des Écrivains, an art book about the secret loves of five French writers: Marcel Proust, Pierre Loti, Renaud Icard, Roger Peyrefitte and Jean Genet.
• Ancient Methods and Futuristic Visions: Mark Pilkington & Michael J. York of Teleplasmiste answer 15 questions.
• Mix of the week: Homer Flynn, spokesperson of The Residents, compiles a playlist for The Wire.
• Adrian Searle on Queer British Art 1861–1967 at Tate Britain: "strange, sexy, heartwrenching".
• Strange Flowers on August Endell (1871–1925) and the trees of spring.
• Urania (1995) by Panasonic | Pan Finale (2010) by Pan Sonic | 5′ 42" (2014) by Pan Sonic