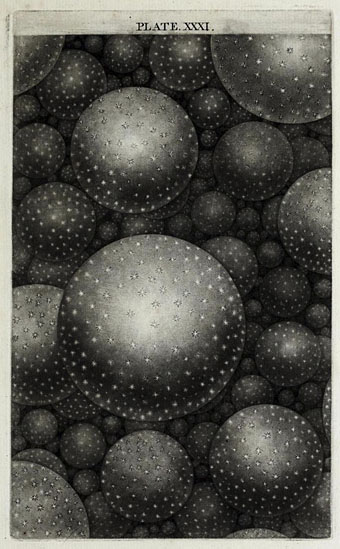 "You may if you please, call a partial View of Immensity, or without much Impropriety perhaps, a finite View of Infinity." An illustration from Thomas Wright's An Original Theory or New Hypothesis of the Universe (1750).
• If you read about electronic music for any length of time today you'll eventually come across the term "pad", referring to a feature of the music itself not the instrumentation. I've noticed increasing instances of this with no accompanying explanation of what the term actually refers to. Rob Wreglesworth has the answer.
• At Dangerous Minds: Richard H. Kirk talks to Oliver Hall about Cabaret Voltaire and Shadow Of Fear. No comment from Kirk as to why the new album warrants the CV name when the music is indistinguishable from his many solo works.
• Eyeball Fodder: The Art of the Occult Edition. S. Elizabeth presents artwork featured in her new book, together with links to artist interviews, including one to the interview we did for Coilhouse magazine a few years ago.
• More electronica: Music From Patch Cord Productions is a new compilation of music by Mort Garson that features some previously unreleased pieces. Great cover art by Robert Beatty as well.
• A trailer for Fireball: Visitors from Darker Worlds, a documentary film about meteorites by Werner Herzog and Clive Oppenheimer.
• From 2019: John Waters and Lynn Tillman in conversation. "The pair discussed Waters's recent exhibitions and art career."
• Harlan Ellison's The Last Dangerous Visions may finally be published, after a five-decade wait.
• Turn your feline into a god with this cardboard Shinto shrine for cats.
• Mix of the week: XLR8R Podcast 670 by Dadub.
• At Dennis Cooper's: Harry Dean Stanton Day.
• John Cooper Clarke's favourite songs.
• Meteor Storm (1994) by FFWD | The Third Chamber: Part 5 – 7pm Tokyo Shrine (1994) by Loop Guru | Fireball (1994) by Sun Dial