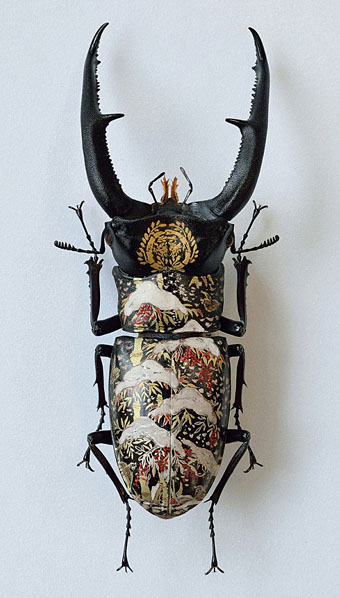 Painted beetle (2016) by Akihiro Higuchi.
• David Horbury: The Tate's Queer British Art exhibition ignores the pioneering scholarship of Emmanuel Cooper, author of The Sexual Perspective: Homosexuality and Art in the last 100 years in the West (1986).
• L'Androgyne Alchemique is an exhibition at the Azzedine Alaïa Gallery, Paris, by pascALEjandro, a collaboration between Pascale Montandon-Jodorowsky and Alejandro Jodorowsky.
• At Strange Flowers: an interview with DJ Sheppard, biographer of poet Theodore Wratislaw (1871–1933), one of the models for Max Beerbohm's hapless Enoch Soames.
• Eloise or, the Realities is a new 122-page comic book by Ibrahim R. Ineke "inspired in part by Children of the Stones and The Owl Service".
• Cormac McCarthy hasn't published a novel for over ten years now but this new piece of writing addresses the mysterious origin of language.
• "…she invented a kind of symbolic code that channelled the occult and the Renaissance masters". Yo Zushi on Leonora Carrington.
• John O'Reilly on the Samuel Beckett cover designs created by Russell Mills and Gary Day-Ellison for Picador.
• Porter Ricks (Thomas Köner & Andy Mellwig) have announced their first album in 18 years.
• At The Daily Grail: Alan Moore on science, imagination, language and spirits of place.
• All 66 issues of Performance Magazine (1979–1992) are now available online.
• The Throbbing Gristle catalogue is being reissued (again).
• Lost Soul In Disillusion (1967) by The Power Of Beckett | Liquid Insects (1993) by Amorphous Androgynous | Biokinetics 2 (1996) by Porter Ricks