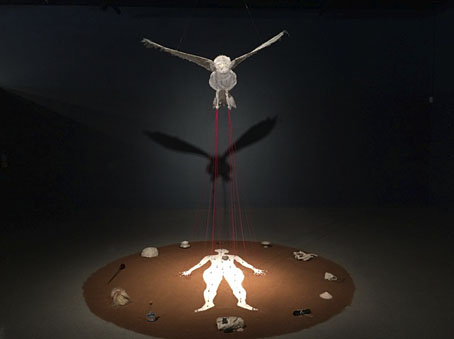 Feathers and Weights (2016) by Susan Jamison.
• The latest release from A Year In The Country is No More Unto The Dance, "a reflection of nightlife memories and the search for the perfect transportative electronic beat".
• Depero Futurista (1927), the bolted book showcasing the artistic work of Fortunato Depero, returns in a facsimile edition.
• This week in the occult: Sam Kean on 21st-century alchemists, and a second volume of The Occult Activity Book.
How could so many jazz critics have overlooked Davis's powerful trumpet playing on Bitches Brew, and its continuities with his previous work? The reason for their bewilderment was, in large part, the brew, the music's muddy electric bottom, which bore no resemblance to the jazz they knew. Davis had never been a pure bopper, but his music had always made allusion, however oblique, to the grammar of Parker and Gillespie. On Bitches Brew, Davis decisively broke with his roots in bop. As [George] Grella argues, building on the pivotal work of Greg Tate and Paul Tingen, the more revealing points of comparison were no longer to be found in jazz but in the psychedelic guitar of Jimi Hendrix, the warbled vocals of Sly Stone, and the bass lines of James Brown.

Adam Shatz on Miles Davis
• Daniel Wenger on Bob Mizer, "the obsessive photographer behind America's first gay magazine".
• The Hauntings at Tankerton Park, a book of words and very detailed drawings by Reggie Oliver.
• A 40-minute performance by Pentangle for Norwegian television in 1968.
• Maisie Skidmore on ten things you may not know about René Magritte.
• Shirley Collins is the secret queen of England, says Nick Abrahams.
• Eighth Climate: ethnographic recordings from the imaginal world.
• Pasquale Iannone on five ways to recognise a Pasolini film.
• The greatest record sleeves, as chosen by the designers.
• Cosmic Horror, new comics work by Ibrahim R. Ineke.
• Mix of the week: FACT mix 569 by S U R V I V E.
• At Dennis Cooper's: 47 unmade films.
• Cosmic Dancer (1971) by T. Rex | Cosmic Slop (1973) by Funkadelic | Cosmic Tango (1973) by Ash Ra Tempel