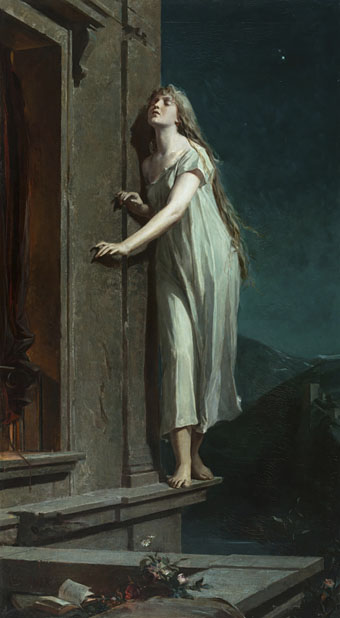 The Sleepwalker (1878) by Maximilián Pirner. Via.
• The latest non-fiction book from A Year In The Country is Threshold Tales, "an exploration of the edgelands, borderlands and liminal places in film; of the places whether literal, in the mind, cultural or amongst the paranormal realm where the boundaries between worlds, ways of life, the past and the future become thin and porous." Featuring some useful viewing tips for the Spook Season, no doubt.
• Spoon & Tamago reports on VHS cafe opening in Tokyo's Shimokitazawa district. I was happy to see the end of VHS format but I admire the Japanese dedication to redundant technology.
• There are more seasonal viewing (and reading) recommendations at Unquiet Things where Ms. E. has been blogging her way through the month. Begin here.
• At Public Domain Review: Edmund Fry's Pantographia: A Specimen Book of All the Alphabets Known on Earth (1799).
• See 12 winning images from the Wildlife Photographer of the Year Contest.
• Wyrd mail (and further links to other things) for autumn from Wyrd Daze.
• At The Daily Heller: The Art of Invented Scripts, Meaning Optional.
• Mix of the week is DreamScenes – October 2023 at Ambientblog.
• New music: N/Y by The Haxan Cloak.
• Sleepwalker's Timeless Bridge (1972) by Amon Düül II | Sleepwalkers Woman (1983) by Scott Walker | Sleepwalking (1985) by Cabaret Voltaire