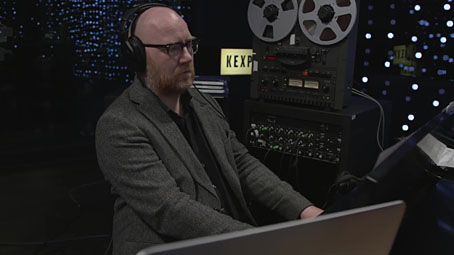 Looking around at the weekend for Jóhann Jóhannsson concerts turned up a few freely available recordings plus a two-hour mix by the composer that I hadn't come across before. I must have about three quarters of the Jóhannsson discography on disc by now but a handful of rarities remain stubbornly out of reach. Discoveries like this help me resist the temptation to consider spending £150 on a secondhand copy of End Of Summer, a CD/DVD recording of a Jóhannsson collaboration with Hildur Gudnadóttir and Robert Aiki Aubrey Lowe. Given Jóhannsson's reputation, and that of Hildur Gudnadóttir who worked with him on other albums, I'd be surprised if some of these scarce recordings weren't reissued eventually.
KEXP (2010).
Jóhannsson with the Acme String Quartet in a 36-minute session for the Seattle radio show. The ensemble perform five pieces which include a version of Flight From The City six years before its appearance on the Orphée album. Also two compositions that are only available on singles or compilation albums, Tu Non Mi Perderai Mai and Corpus Camera.
FatCat Podcast #66—The Miners' Hymns live at Winter Gardens (2012).
The Miner's Hymns was a score for a Bill Morrison documentary about the mining communities of North East England for which Jóhannsson used a range of brass instruments like those found in colliery bands. This is a live performance of the entire score by the Wordless Music Orchestra that accompanied a screening of the film in New York.
FACT Mix 527 (2015).
Linked here before, a 55-minute mix which includes a number of unsurprisingly sombre orchestral selections from Mihaly Vig, Gloria Coates and Witold Lutoslawski, together with two pieces by Meredith Monk. The latter point the way to the Monk-inflected vocalisations on the score for Arrival.
KEXP (2016).
A 50-minute session on video which includes more selections from the Orphée album. During the discussion interlude with Kevin Cole, Jóhannsson talks about his soundtrack work, including his score for Arrival.
Electronic Explorations 461 (2017).
A two-hour mix which repeats some of the FACT mix—Lutoslawski's Funeral Music was evidently a favourite—and which also shows Jóhannsson's sense of humour. Of all the many pieces he might have chosen by the early music historian David Munrow, the two recordings that open and close this mix are from Munrow's unreleased score for John Boorman's Zardoz. Then a third of the way through there's an abrupt transition from the droning doom of Sakrifis by Mohammad to Au Suivant by Jacques Brel, a song better known to Scott Walker and Alex Harvey listeners in its Mort Schuman translation, Next.
Previously on { feuilleton }
• Last and First Men