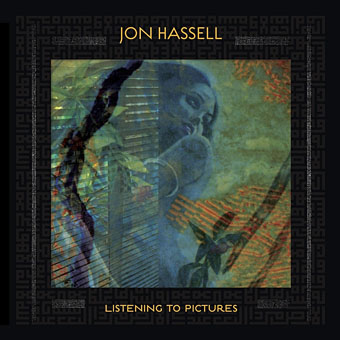 Cover art and design by Arien Vallzadeh, Dan Kuehn, Mati Klarwein & Taska Cleveland.
• At Bandcamp: "Jon Hassell collages the past on his absorbing new record". The new album, Listening to Pictures (Pentimento Volume One), was released last week, and it joins the rest of Hassell's catalogue in sounding unlike any of his other albums while still being recognisably the work of the same artist. Musical collage is a familiar technique today but was much less common thirty years ago; it's almost a constant in Hassell's work, however, going back to Possible Musics (1980), with its tape-looped rhythms and layered recordings, to the later Magic Realism (1983), an album which was in the vanguard of digital sampling, and which still sounds like nothing else.
• "We're supposedly in the middle of a vinyl revival, streaming services are hoovering up all the coin, and everyone seems to have a cassette column. But, argues James Toth, it's the humble compact disc that we should be celebrating." No argument here, I've long favoured CDs over vinyl even before the current fad for overpriced antique (or not-so-antique) discs and equally overpriced new pressings.
• "Reading [Robert] Aickman's strange stories is to glimpse a reality you would prefer to forget," says John Gray. Among the other writers mentioned in Gray's piece is the excellent (and under-recognised) Walter de la Mare; Wormwoodiana's Mark Valentine reviews a previously unseen de la Mare story.
• At The Wire: Greetings Music Lover: The premiere of Steve Urquhart's new audio documentary exploring the life and work of BBC Radio Lancashire broadcaster and Wire contributor Steve Barker.
• Out in November: k-punk: The Collected and Unpublished Writings of Mark Fisher (2004–2016).
• "European cinema embraces the vagina—what's taken Hollywood so long?" asks Anne Billson.
• Strange Stars: David Bowie, Pop Music, and the Decade Sci-Fi Exploded by Jason Heller.
• "Avoid all systems": Ex-Can vocalist Damo Suzuki is interviewed at Dangerous Minds.
• "A new room in the Great Pyramid": lost 1963 John Coltrane album discovered.
• Mixes of the week: FACT mix 656 by Mor Elian, and 6 by The Ephemeral Man.
• An introduction by Erik Davis to The Night Land by William Hope Hodgson.
• Pyramid Of The Sun (1960) by Les Baxter | The Giant Pyramid Sitting At The Bottom Of The Sea Of Bermuda And The Ancient People (1979) by Isao Tomita | The Obsidian Pyramid (2005) by Eric Zann