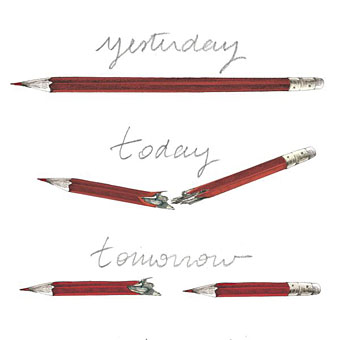 A drawing by Lucille Clerc.
• The usual imbalance of heat versus light this week but Kenan Malik and Teju Cole had some worthwhile things to say. Related: Atlantic illustrators respond to the events of Wednesday. And some history: covers of Charlie Hebdo's parent magazine, Hara-Kiri, whose legacy of bad taste and confrontation was overlooked in the rush to express disapproval.
• At The Quietus: Virginie Sélavy, Mark Pilkington and Stephen Thrower of the Miskatonic Institute talk to Mat Colegate about horror old and new. There's more horror cinema in Mat Colegate's interview with animator Carla MacKinnon.
• Mixes of the week: Sleepwalkers of the Montgomery Canal by The Geography Trip, and Secret Thirteen Mix 142 by Helena Hauff.
• Jazz legend Julian Priester reflects on his fusion classic Love, Love, Sun Ra, Herbie Hancock, and a lot more.
• "No gays, no blacks, no fat people": Ryan Gilbey on how film advertising continues to betray filmmakers.
• Paul Gorman on the drumheads that Barney Bubbles painted for Hawkwind's Simon King in 1972.
• Massive: Gay Erotic Manga and the Men Who Make It, edited by Anne Ishii & Graham Kolbeins.
• NASA's exoplanet travel bureau wants you to pack your bags.
• The New Humanist on imagining a world without work.
• At Strange Flowers: 15 books for 2015.
• Prologue/Love, Love (1974) by Julian Priester | The Jewel in the Lotus (1974) by Bennie Maupin | Rima (1975) by The Headhunters